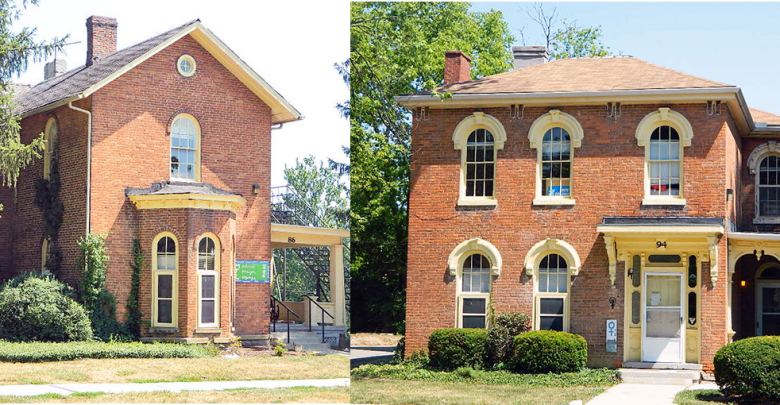 SLUs saved: MFL and SAGE buildings to remain on campus next year
When the moderators and members of the Modern Foreign Language House (MFL) and the Sexuality and Gender Equality House (SAGE) received the email late last Monday that their buildings would be safe next year, the resounding response was one of relief. Residents of both houses now did not need to worry about finding housing for the 2015-2016 school year.
Instead of razing both structures this summer, the decision was made to leave them standing. There will still be construction on a new structure starting this summer. According to University President Rock Jones, deciding to keep MFL and SAGE this year was because of a combination of reasons. It was a response to the concern of current students, it was disruptive to students who would have to find housing and it made more sense to build one building instead of two at the time.
Junior Alanna Spalsbury, the current and future moderator of MFL said that they decided "as a house on where we would be comfortable living if MFL was torn down, but that was never even solidified."
Senior Meredith Harrison, the current moderator of SAGE said, "Ideally, if the current SAGE house was torn down, the community would love to be placed in an off-campus house…The next ideal option if SAGE would not be able to live in a house would be to live in a residential hall that provides shared community spaces…It would help the members and moderator build community more naturally."
Wendy Piper, assistant dean of student affairs and the director of residential life, said she, Craig Ullom, vice president of student affairs and Levi Harrel, a ResLife coordinator, had discussed alternatives with the members of the SLUs. Some of the options discussed were "renting a house not owned by the university, occupying a fraternity house or being clustered together on a residence hall floor," Piper said.
"We are planning to begin construction later this summer for two new SLUs on the site of the existing House of Thought. We eventually want to develop the rest of the Rowland Avenue site with a total of eight new SLUs."
Both SLUs stayed in contact with each other during this time.
"Alanna and I have had pretty open communication through this while process," Harrison said. "I think the scare of having our communities put back into residential halls next year really brought our two communities together. The other houses also had our backs and wanted to help us in any way they could. I think in some ways, it brought the entire SLU community together."
However, communication between SLU members and ResLife was not as strong.
Junior Nancy Ransom, a member of MFL, said, "The communication between residential life and us was very fragmented…We were under the impression that a donor was prepared to donate a large sum to the school, but upon meeting with Residential Life, a bunch of hypothetical situations were introduced, although measurements around our houses have been taken."
Sophomore Lissette Gonzalez, the future moderator of SAGE, said, "I believe that Residential Life really tries to be as transparent as they can be, however, I believe that communication could definitely be improved."
Upon reacting to the news that her house would be saved, Ransom said, "My first reaction was to drop my jaw, as this process has caused me a lot of stress and anxiety, but on deeper reflection, I worried there would be no way of holding Residential Life accountable if they went back on their word, as this was all done over email. I do not think this will be the case, or I hope this will not be the case."
Gonzalez said she cried when she heard the news. "I love this house and I cannot wait to be the moderator next semester."