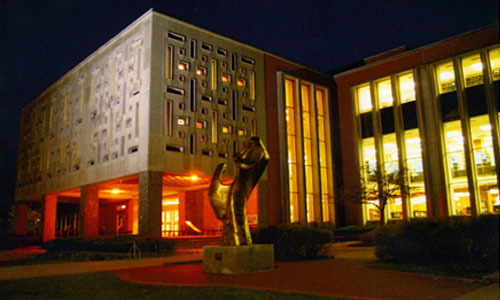 OWU grad returns for photography feature
William JanTausch, class of 1969, was not in Beeghly Library to return long­-overdue books. It was his photography exhibition, "Forgotten Places," that brought him back to campus.
According to exhibit information, "JanTausch's photographs capture haunting images of local scenery, including an abandoned sawmill."
The photos will be displayed Aug. 15 through Oct. 6 in Beeghly's Gallery 2001. A reception with JanTausch will be held from 4 p.m. to 5:30 p.m. Sept. 17, inside the gallery.
"JanTausch is a resident of Delaware, and has visited the Ross Art Museum for many exhibits," said Tammy Wallace, assistant director of the Ross.
"There are two series on display [in the current exhibit]: the sawmill series, consisting of black and white photographs of an abandoned sawmill here in Delaware County, and the abandoned barn series, consisting of color and black and white photography of barns here in Delaware County."
Though he expresses himself through photography, JanTausch is not a professional artist.
"Although my degree was in botany­bacteriology, I spent the first twenty years of my career in traffic and distribution in the private sector," said JanTausch.
"Then, in the 1990s, I purchased a few properties and have remained in the real estate and management field since. Ohio Wesleyan taught me to be a problem solver, to investigate and craft solutions and most importantly to ask Wallace said this event "can provide a respite from studying. It can inform, educate and delight. Some artwork can be controversial, spark conversations or encourage viewers to dig deeper into a subject."
Admission to the exhibition is free.