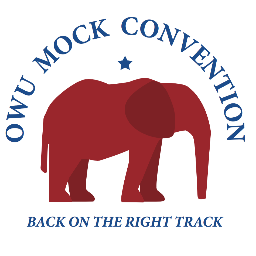 Every four years, the Ohio Wesleyan Mock Convention takes place in Gray Chapel and students learn and experience the political party nomination process for the upcoming presidential election.
This year's Mock Convention will take place on both Feb. 5 and 6. Leading up to this event, several platform hearings are held in preparation for the two­-day event.
The third platform hearing was held on Dec. 1 and President Rock Jones, professor of economics Alice Simon and OWU alumnus Ben Andrews gave their views on the politics of student debt.
Simon began the hearing by discussing the benefits of achieving a bachelor's degree and how having a bachelor's degree is described as a need.
Simon explained that economists define necessities as good or service that when the price goes up, the demand for that need stays the same. "In 1990, 59.9 percent of high school graduates attended some sort of college education institution."
This percentage has only increased since 1990 and the cost of a college education has also increased, which suggests that a college education is a need rather than a want.
Simon teaches classes covering the areas on economic principles, monetary and fiscal policy, consumer economics and labor economics.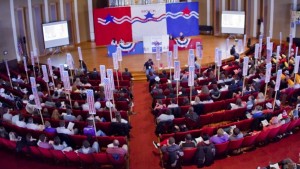 Simon explained that someone with a bachelor degree, on average will make 1.3 million dollars more than someone without a bachelor's degree over a lifetime.
Andrews spoke on how student debt affects different groups of people in different ways.
Andrews said, "According to recent studies, 66 percent of OWU students graduate within six years of college, which is higher than the national average of 50 percent."
The typical total debt the average OWU student encounters after graduating is 27,000 dollars, with average monthly loan payments of 300 dollars.
Jones went on to explain the stigma attached to private school and the higher cost of private colleges over public institutions.
Jones said, "By examining the list price of public versus private, private is higher. However, students attending private schools don't borrow much more than those attending public schools."
Jones explained that the average student who has attended a public college will encounter 25,000 dollars of debt whereas private will encounter 29,000 dollars. Although the sticker price for a private intuition might be more, the average student does not pay that amount due to financial aid and scholarships provided through the school's endowment.
Jones said, "People with college degrees contribute greatly to society and have far less need for public assistance. Society should help bear the cost of college education to benefit the entire society as a whole."
The list price for colleges might have increased, Jones reasoned, but the actual price has declined due to scholarship and federal funding.
"People suggest sending more students to community college or making community college free," said Jones. "This would be a risk and possible loss of educated citizen from educational establishments such as Ohio Wesleyan."
Jones said, "Nobody is arguing that you shouldn't borrow money to buy a house. Nobody is arguing that you shouldn't borrow money to buy a car. With massive amounts of credit card debt, people aren't arguing that you shouldn't borrow money to buy holiday present, but they are arguing that you shouldn't borrow money to get a college education. A modest student loan is the ticket to achieving much more in life."
According to the OWU Mock Convention's literature, this year's Mock Convention will be Republican "to ensure there is a lively debate and competition among a number of candidates."
The organization traditionally represents the party currently not in office.