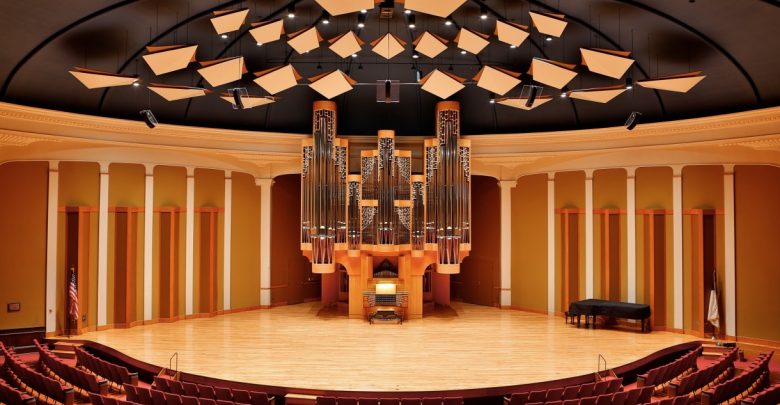 OWU chamber orchestra continues to impress
On Nov. 10, the Chamber Orchestra performed their fall concert in Gray Chapel. The group was conducted by Michael Malone.
Malone has been the conductor for the Chamber Orchestra since 2010.
Malone explained that a chamber orchestra is a smaller version of a full orchestra. OWU's consists of six first violins, four second violins, three violas, three cellos, two basses, one flute, two oboes, two clarinets, two bassoons, two horns and timpani.
According to his website, Malone "holds the PhD in historical musicology from The University of Texas at Austin," and has taught courses in conducting, orchestration, music history and history of jazz.
The orchestra rehearses once a week as a group, however, the string section has a weekly sectional at which they practice separately.
Malone said, "It is my job to make sure that we are playing together as a group. I help them understand how their parts fit in with what else is happening in the music around them so that their individual parts make sense within the whole piece."
Senior ZoAnn Schutte was appointed department concerto competition and therefore aided the process of selecting pieces for the performance.
"The most substantial piece on the program is Mozart's Symphony No. 40, which is one of those pieces I have known and loved for a long time, so it is a great pleasure to have a chance to conduct it for the first time," said Malone. "I always try to choose a big piece that will stretch the capabilities of the orchestra. This is a big, difficult piece, and so the students have had to work hard to learn it, but they have done an amazing job."
Every year, the orchestra has a Concertmaster who is always a violinist.
Junior Chris Brinich is the current Concertmaster of the chamber orchestra. Brinich said that as Concertmaster he needs to "to be able to lead their section, as well as the whole orchestra in some instances. The concertmaster is generally the one who is most expected to know their part in the violin section. It also includes organizing separate string sectional rehearsals for the orchestra."
Brinich has been involved in the Chamber Orchestra since his freshman year and has held other positions such as Principal Violinist.