Professor reads from her new book
By: Katie Kuckelheim, Transcript reporter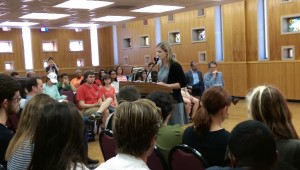 Amy Butcher, assistant professor of English at Ohio Wesleyan, recently published a memoir about her own years as a college student, and on Sept. 17, she gave a reading in Beeghly Library.
But "Visiting Hours: A Memoir of Friendship and Murder" is not a typical campus story.
Butcher's book details the homicide of Emily Silverstein, who was murdered by her boyfriend Kevin. Butcher was close with Kevin, and even walked home with him on the night of the murder.
Butcher's interest in the nonfiction genre led to the writing of the book. She writes, "I'm drawn to the essay form because it allows me to step into someone else's shoes, or perhaps to write a reader into them."
Kevin had struggled with clinical depression his whole life. With her memoir, Butcher hopes to "add to the chorus of conversation on the often taboo topic of mental illness in America."
When asked how the events of the book changed her life, Butcher said, "I subscribe to the belief that everything that happens to us invariably shapes us, but in this way, I feel this event shaped my everything. Perhaps I won't feel this way years from now, and perhaps that will be a blessing, but for now, I think the easier question is to consider the ways in which this event hasn't shaped me. I have a hard time coming with much, frankly. We are molded exponentially by what we know."
Sophomore Hayley Mandel, said, "I read it last year. It is a piece that you think about very deeply for a long time. I think back to it often."
Professor Karen Poremski of OWU's English department said, "I admire professor Butcher's ability to address difficult issues in a reasonable, calm way."