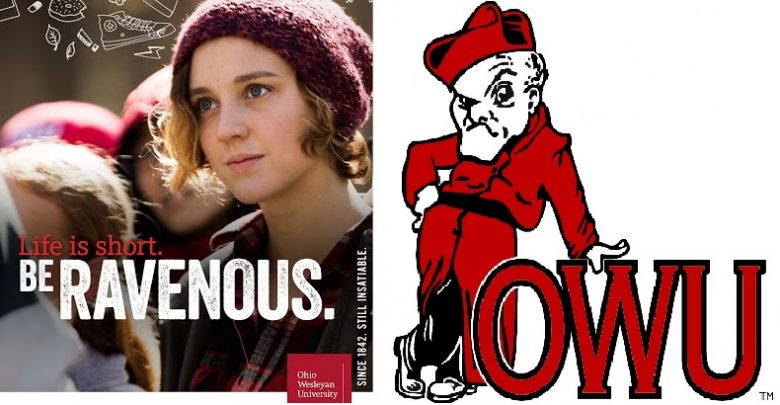 OWU's marketing: a banquet of changes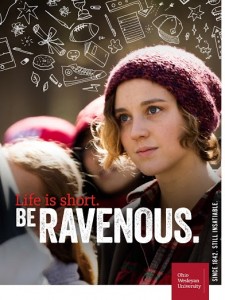 Are you hungry for excellence? Ravenous to learn? Have an insatiable appetite?
Ohio Wesleyan's marketing team has chosen the theme of hunger to create a new, bold look for promotional materials, the website and campus itself.
"Everyone knows what being hungry feels like, but we're trying to take that beyond the belly to hunger in your heart and hunger in your mind," Will Kopp, the chief communications officer of OWU said. "It's that passion and fire that a coach wants their players to have, that an employer wants their new hire to have. That's hunger and that's what we saw here with the students."
OWU decided to make these changes in an effort to increase enrollment, a statistic that has been on the decline for the past few years.
The communications team, led by Kopp, met with focus groups, students and faculty to figure out how to present the school in a different way and to make everyone proud to be a Bishop.
"Students talked about everything they're involved in. You come to Ohio Wesleyan and you want to do this, you want to do that," Kopp said. "They want to do everything."
The involvement of students in clubs, athletics and academics across campus led Kopp to the metaphor. The team even talked to prospective students who chose not to come to OWU to figure out the reasons.
"There wasn't an emotional connection and they didn't get a feel of what OWU was about," Kopp said. "We weren't the top choice for a lot of the students that came here."
Kopp is not a fan of slogans, which is why "Opposite of Ordinary" is no longer OWU's official tagline. Instead of having one line describe OWU, they created multiple phrases to capture student spirit. There are 33 new banners across campus, all with different sayings that line up with the theme. Kopp was careful to not overdo it. Only three of those banners use the word "hungry."
"That's enough to get across the metaphor," he said.
Along with a new marketing look, OWU is changing social media, the website and mailings they send out to high school students.
Jessica Vogel, the head of social media, uses the different platforms to engage students and tell Ohio Wesleyan's story.
"My main goal is to tell the story of the university, of the students, of the alumni in the most engaging way possible," Vogel said.
One feature of the new website will be an Instagram feed that runs along the bottom. Students will be able to populate the feed with their own photos by using hashtags.
"The students here are so talented," she said. "We're really hoping they will populate that with their images."
Students are hoping their peers will use the hashtags as well.
"It's a good idea because Instagram is so popular right now," senior Gunnar Bloecher said. "I just hope people actually used it."
When starting this project, Kopp's main objective was to be different and bold.
"No other school says anything about being ravenous."