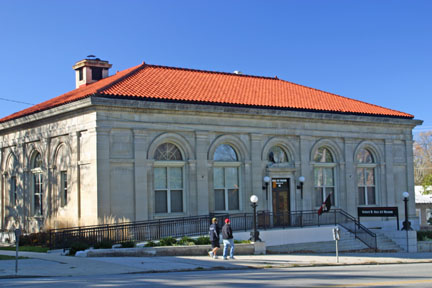 Landscape artist comes to OWU
By: Katie Kuckelheim, Transcript correspondent
Panoramic paintings of urban and rural landscapes in oil called "Matter of Fact," an exhibition at Ross Art Museum, is a collection of paintings in plein-­air by Todd Gordon.
Plein­Air, according to professor Frank Hobbs in the fine arts department, is, "Painting or drawing… on site, rather than in a studio or from photographs or drawings."
Gordon explained, "These regions are typically overlooked as mundane …industrial, or even ugly, but, as a painter, I find them profoundly interesting visually in their wealth of various shapes, colors, textures, and spatial relationships."
The reasoning for coming to OWU, Justin Kronewetter, the director of the Ross Art Museum, explained was, "because he grew up in Delaware and many of the local residents know the artist and his artwork."
Growing up in Delaware, it is "distant and familiar" for Gordon to display his art outside of his New York Gallery.
Gordon is coming to OWU on Thursday, Oct. 22 to talk to residents and students alike in the R.W. Corns Buildings, Room 312, at 7 p.m. about his art. A reception follows the presentation from 8­-10 p.m. at the Ross Art Museum.
Gordon said, "I plan to give a brief presentation about my work, focusing on my artistic process as an observational painter who makes representational landscape paintings."
Kronewetter said, "We anticipate a large turnout."
Gordon expressed his excitement "to share this experience with the students and faculty at OWU and the local community."
Hobbs, a plein­air artist himself, said, "The work is impressive in its scope and in its honest attempt to capture a personal view of the urban environments in which the artist lives. The paintings owe a large debt to another, older contemporary painter, Rackstraw Downes, who also works on site in urban settings and takes in similarly wide angles of view."
Gordon's "Matter of Fact" is currently on display at the Ross Art Museum until Nov. 13.
The museum's hours are Tuesday, Wednesday, Friday 10 a.m. to 5 p.m., Thursday 10 a.m. to 9 p.m., and Sunday from 1 to 5 p.m.