The new OWU website is here
By: Hannah Wargo, Transcript Correspondent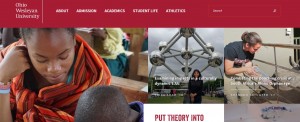 The wait is finally over.
Ohio Wesleyan's redesigned website is up, running and accessible to all your devices (including smartphones).
The website hasn't had a full redesign since 2006 or 2007, according to project manager Lindsay Mauter.
In that decade, how we access the Internet has changed dramatically.
"All research points to the fact that students begin their college search online, on devices, so it's important that this website is happening now," Mauter said.
The Office of Communications collectively decided, along with President Rock Jones, to invest in a full redesign last November, said Will Kopp, OWU's chief communications officer.
"The new website will be more attractive, cleaner, better organized, completely compatible with any kind of device, and under one domain, rather than the 70 sub-domains we have now," he said.
With enrollment on a steady decline, the new website aims to attract more prospective students.
"Prospective students use university websites as a way to window shop," Kopp said. "Our goal is to make them click… find something interesting about our school that makes them want to go deeper into the website."
Fastspot, the company in charged of the redesign, interviewed students and faculty last January to discover why they think Ohio Wesleyan is unique. Their findings are emphasized in the design.
Photo galleries on the homepage highlight OWU's abundance of double­ majors, study abroad opportunities and graduate success.
Each department page features photos of the faculty members and their classrooms.
"Prospective students want to know who their faculty is going to be, what their classrooms are going to look like," Kopp said.
A "from our perspective" section displays opinions of faculty, students, and distinguished alumni alongside their photos. These will be updated regularly and faculty are already sending in quotes they want to publish, said Kopp.
Current students will find the same benefits as other users of the site, including easier navigation and better search capability, Mauter said.
Kopp said, "The website will give current students more opportunity to interact and to be a bigger and more visible part of the community."
The bottom of the website bares an Instagram feed, where students can have their pictures featured if they tag #OhWooo or #BattlingBishops.
Fastspot made many successful university websites in the past, including that of nearby Kenyon College, Kopp said.
He added that prior to launching, the company will conduct usability tests with people who are not familiar with the university website. They will use those results to fix any last-­minute navigation issues.
The redesign gives the university more opportunities to grow, and puts us on a level playing field or a notch above our competition, Mauter said.
The communications office will work out any bugs that come up with the website, but encourages students to reach out if they need help or have questions or requests, Mauter and Kopp said.