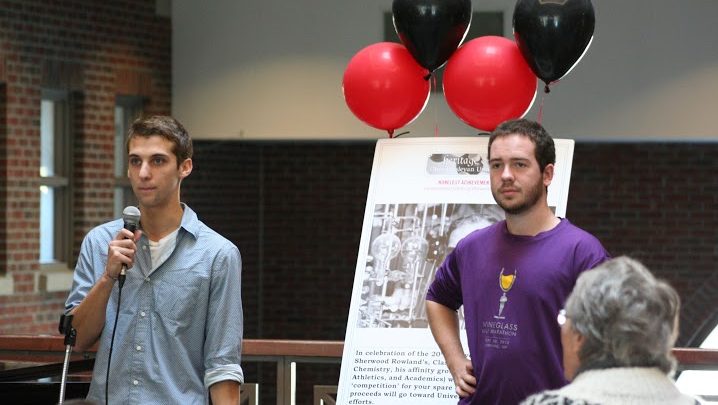 Nobel Prize winner, OWU alum Sherwood Rowland honored
By: Ross Hickenbottom, Transcript Reporter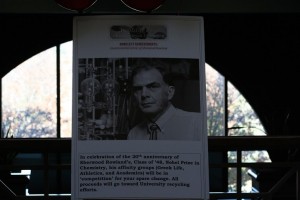 Ohio Wesleyan alumni all over the world have received awards in recognition of their accomplishments. Whether for sports, science research, education, politics, social activism, literature or entertainment, these awards are prestigious. But one award trumps all the rest: the Nobel Prize.
Frank Sherwood Rowland, class of 1948, received the 1995 Nobel Prize in chemistry for his cooperative "work with chlorofluorocarbons (CFCs) and their impact on the Earth's ozone layer," according to Connect2OWU. In other words, he proved to the world that mankind can (and is) depleting the ozone.
During his formative years of research he was affiliated with the department of chemistry at the University of California, along with Paul J. Crutzen and Mario J. Molina, his co-­winners.
The school community celebrated the 20th anniversary of Sherwood's award on Nov. 13. The celebration was named "Noblest Achievements: Environment Echoes of Sherwood Rowland" and was held in the atrium of the Hamilton­Williams Campus Center from 12­-1 p.m.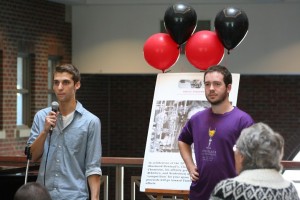 Sherwood was a member of Delta Tau Delta, the men's basketball team and was the sports editor of The Transcript during his time at OWU. With this in mind, OWU chose junior Evan Katz, a member of Delta Tau Delta and senior Ben Miller, a journalism major, to speak on Rowland's behalf.
In his speech, Katz shared some unknown and impressive facts about Sherwood, including the fact that "Sherwood Rowland entered the first grade at the age of 5, skipped the fourth grade, entered high school at 12 and graduated a few weeks before his sixteenth birthday."
In an interview at the 2005 meeting of Nobel Laureates in Lindau, Germany, Sherwood described his post-­high school graduation decision to attend OWU, "After graduation from high school in 1943, almost all of my male classmates immediately entered the military service," Rowland said. "However, because I was still well under the compulsory draft age of 18, I enrolled at Ohio Wesleyan and attended the university year­-round for the next two years. During these war years, only 30 or 40 civilian males were on campus, plus about 200 naval officer trainees and 1,000 women. With so few men available, I played on the university basketball and baseball teams and wrote much of the sports page for the university newspaper."
A model man for many, if not all Ohio Wesleyan students, Sherwood Rowland's contributions to the world remind us all of our potential.
Now, Delaware. Next, Oslo?