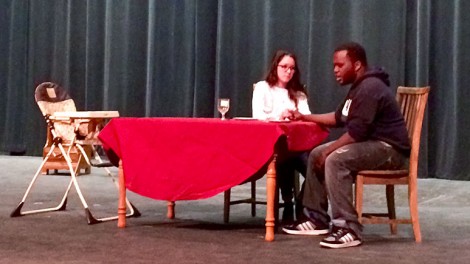 One Acts set to thrill audience
By: Leo W. Psenicka, Transcript Correspondent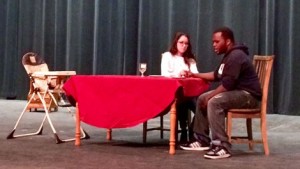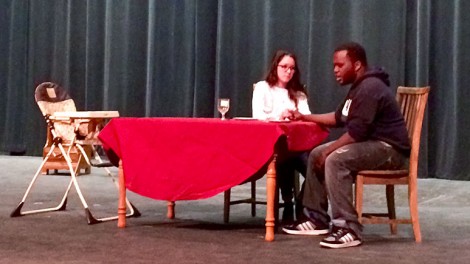 If you plan on attending One Acts in December, there is a lot to look forward to.
The One Acts are student driven. The playwriting class produced the scripts that the directing class can choose from. Even the actors are students, with the occasional professor.
This year, the One Acts will take place on Friday, Dec. 4 and Saturday, Dec. 5. One such play is "Eremiel and Beelz", written by junior Gabe Caldwell and directed by junior Emily Poltor.
"Eremiel and Beelz" is a comedy about an angel named Eremiel and a demon named Beelz. The play is Caldwell's second script to be featured in One Acts. He said his inspiration came from "Good Omens," a book by Terry Pratchett, which is about an angel and demon who are best friends.
"Beelz is really good at doing his job which is 'bad." Eremiel is bad at his job which is 'good," Caldwell said. "The central tension of the show is whether nature trumps purpose, good or bad."
Poltor said she wanted to direct the play since she first read it. The script was "fast­paced," good for her directing style and had likable characters.
"What stood out to me in the script is that the characters are supernatural beings," said Poltor. "I thought that would present a unique artistic challenge."
Because the characters are supernatural beings, Poltor looked for actors who had the skills to portray that. During auditions and callbacks, she searched for actors who were "not afraid to put humor into the script" and were experienced enough to learn the roles in the limited rehearsal time.
Freshmen Doris Ottman was cast as Eremiel and Ares Harper was cast as Beelz.
Harper was excited to be cast in One Acts. His favorite part about One Acts is that the work is done by his peers. He liked Poltor's directing style because she was open to experimenting with characterization and takes input from her actors. However, he was surprised to be cast as Beelz.
"I've always wanted to play a villain. You don't get much more 'villain' than a devil," Harper said. "He's … a big, manly character. I don't usually get cast as that."
Ottman, his scene partner, enjoyed working with him. She was equally surprised to have been cast as Eremiel.
The character interested her because he does not embody the stereotypical idea of what an angel should be. For Ottman, the biggest challenge of playing Eremiel is making the supernatural events seem normal.
"You have to make the supernatural seem natural," Ottman said.
As the playwright, Caldwell appreciates how Poltor cast his characters. He thinks both actors are perfect for the challenges of the script.
"They can pull off the dramatic side…the comedic timing of the dialogue and the serious side," Caldwell said. "Timing is harder to train, and the director needed to understand that."
The directing class spends the semester preparing for One Acts, which is their final project.
Directors are responsible for organizing callbacks so they can choose their actors. They are also able to use elaborate props and work with lighting designers, sound designers, and the stage manager. The goal is to see the play come to life during the performance.
"People never get to see how much effort goes into the finished, polished product," Poltor said.
Each day of the One Acts features different shows. "Eremiel and Beelz" will be performed on Dec. 5.