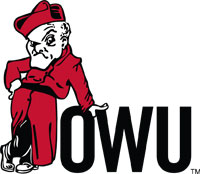 Commission seeks to solve difficult problems
In recent weeks, many colleges and universities across the country have struggled with their administrations over racial and cultural inequalities. Many students have protested that their administrators do not listen to their concerns. Ohio Wesleyan's President's Commission on Racial and Cultural Diversity (PCORCD) tries to avoid just that complaint.
PCORCD was formed in 2007 and has three main goals: "to report annually to the president on the state of racial and cultural diversity at Ohio Wesleyan; to make recommendations aimed at improving the climate of racial and cultural diversity at Ohio Wesleyan; and to recommend the annual recipient of the President's Award for Racial and Cultural Diversity," said Rock Jones, president of OWU.
The award recognizes an individual or organization "that has done the most to improve the state of racial and cultural diversity" on campus, said Jones.
Chuck Della Lana, the director of media services, serves as a co­-chair of the commission. He said the commission is currently "working with the president's office and the human resources department to offer a diversity/bias training program to all staff and faculty which we expect to roll out this winter."
The module, which was created by WeComply, seeks to explain federal, state and local workplace ­diversity laws, and also "emphasize the importance of treating everyone with respect and dignity and…demonstrates how embracing diversity can be a sound business strategy," according to the company's website.
Jones said PCORCD is "particularly focused today on the need for bias and sensitivity training, and the need for a clear method available to report incidences reflecting bias, insensitivity, discrimination and other forms of mistreatment."
A goal of the commission is to expand similar types of workshops to the entire campus. John Sanders, interim director of human resources at OWU, said in an effort to hire more diverse faculty and staff, job postings have been going to HBCU Connect. HBCU Connect is a web service where current and former students of HBCU's (Historically Black Colleges and Universities) can look for jobs and connect with potential employers.
Currently, PCORCD is working with OWU's Spectrum Resource Center. Della Lana said they are creating a "Campus Pride Index, which should clearly indicate how we rank with other colleges when it comes to providing service and support to our GLBTQ students."
Della Lana said once the index is completed, the commission "will receive a report with specific suggestions on how we can work together to provide a safer and more inclusive campus community."
Two students are on the commission, and as of publication, they have not responded to requests for comment.
Even with these precautionary measures being taken, PCORCD is still trying to find its niche on campus.
"We believe the best way to prevent conflict on campus is for all of us to speak openly and honestly about the issues we face," Della Lana said. "OWU is not a perfect community. There is much work to be done and we don't have all the answers."