By: Alanna Henderson, Transcript Correspondent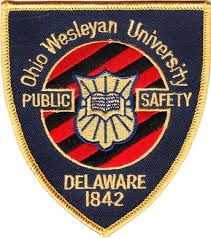 It's survival of the fittest for Ohio Wesleyan students when it comes to finding a parking spot on campus.
OWU students are frustrated that they have to pay for a parking permit and put additional money in parking meters on the street and then walk back to the dorms late at night because they can't find a spot near their residence hall.
Currently, the B parking passes are priced at $175 for a full year and C passes are at $15. Permit prices drop 50 percent on March 1.
B lots include the residency side whereas C lots include the Jay Martin Soccer Complex, Selby Stadium and a few spaces on the far west side of Williams Drive.
Including faculty and staff, there are 1,500 parking spots available on OWU's campus. However, for student parking, there are a total of 1,040 spots. Only 443 B permits and 215 C permits are issued.
As of Nov. 17, 957 parking citations were issued.
Public Safety (PS) has approached the distribution of parking permits in several different ways and this year has been the least problematic.
In previous years, there has been a lottery­style drawing for the freshmen and sophomore classes to get a parking pass. There were 70 spots offered between the two class levels. In this case, it was the luck of the draw for those students.
This technique, led to more students parking on the street, which caused problems for Delaware residents and police. This resulted in parking permits opening up for everyone on campus.
However, students still park on the street.
Junior Doug Dodridge has had a B permit all three years, but finds better spots on the street. "I hate parking here. I think it's absolutely ridiculous that I paid $175 for a parking pass," Dodridge said. "I'm feeding a meter every time I go to class because I can't find a place to park my car."
Senior Nate Goodhart has seen the price of parking passes increase dramatically over his four years and feels the parking situation hasn't gotten any better.
"If PS can get a parking spot for their golf cart, I should get one by my classes," Goodhart said.
This year, PS lowered the price of C permits to $15 making it more affordable. PS thought this might increase the availability in B lots since C is more reasonably priced. PS does not plan on lowering the price of B permits anytime soon.
Freshman Lyndsay McMullen purchased the C permit but intends on upgrading next year. For now, she doesn't mind walking, but feels a B pass would be more convenient.
To help resolve some of the parking spot battles, manager of PS Ramon Walls advises more students to partake in the car­sharing program with Enterprise. There are approximately 120 students registered for the car­share program.
To apply for the car­share program, a credit card and license is required. From there, drivers can book reservations for the day and time. Gas and damages are all covered in the membership fees.
For more detailed information, contact PS.
"With the addition of the new Simpson Querrey Fitness Center, we have changed the A parking hours in the science center from 6 a.m. to 5 p.m. to a more flexible time, 8 a.m. to 4 p.m.," Walls Junior Jillian Bell has had a B permit all three years and still struggles with parking problems.
"All the parking lots have huge potholes which I thought would be fixed after being here for three years," Bell said.
PS along with many student drivers would love to see parking lots paved again and spots added, but it is simply not in the budget.
Walls likes the idea of building a parking garage by Ham­Will. Denison University has a parking garage on campus that offers a large sum of student spots.
Parking has been an issue for students at OWU for years now.
For the time being, when it comes to finding a parking spot, may the odds be ever in your favor.