By: Brian Goldaber, Transcript Correspondent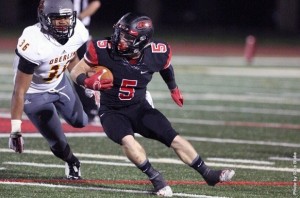 It's not how you start, but how you finish.
The Ohio Wesleyan football team finished its season on Nov. 14 with a 59-­28 win against the College of Wooster. The blowout win marked the culmination of an up and down season that fills the Battling Bishops with anticipation for next fall.
The win against Wooster raised OWU's record to 5­5. While a .500 record may not seem impressive, those close to the football program think otherwise.
After losing three of their first four games, the team rallied to win three of its last four behind some stellar offensive and defensive performances.
"It took us a little while to get rolling, but once we found our groove and started playing good football, we got really tough to beat," junior quarterback Dom Orsini said.
The Battling Bishops also faced the toughest part of their schedule at the beginning of the season. They opened the season with difficult losses to Mary Hardin-­Baylor, who was ranked third in the nation and the perennially tough conference rival Wittenberg University.
The season finale was also a great way to send off some of the seniors on the team. Finishing the season on a strong note was satisfying for the graduating seniors to finish their football careers.
"A win like this was a great way to go out," senior captain Zain Kieffer said. "Even though we got off to a bad start to the season, we knew we didn't suck. It feels good to beat up on teams in front of my whole family. Couldn't have asked for a better end to football."
The team has 11 seniors, but the majority of the team will be back next fall.
"The end of this season leaves us all hungry for next fall," Orsini said. "We're keeping most of our offense and a lot of key contributors on defense. Now that we have a whole season under our belts, the sky's the limit."
This off season promises to be a productive one for the Battling Bishops, as head coach Tom Watts has placed the team on a strict workout plan. The players must keep up with strength training, conditioning and speed and agility drills until next fall to ensure that they come back ready to win.