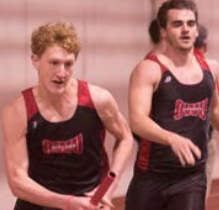 OWU track team sweeps triangle meet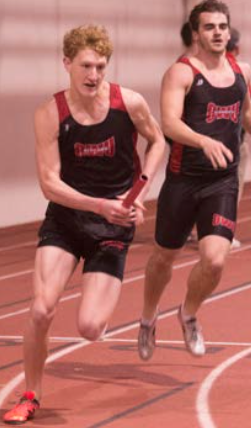 Ross Hickenbottom, Sports Editor
Friday night was a successful one for the Ohio Wesleyan indoor track teams as they swept the OWU Triangular meet, where they hosted Mount Vernon Nazarene and Muskingum University.  
The men's track team, led by senior Adam Turner's first place finishes in both the 300-meter dash and the 500-meter run, dominated the meet with their 180.5 points as compared to Mount Vernon Nazarene's 84.5 and Muskingum's 66.
A long list of first place finishers for the men include sophomore Nate Newman in the high jump, senior Aaron Port in the shot-put, junior Colin McShane in the 60-meter dash, senior Houston Smith in the 800-meter run, sophomore Nick Horton in the mile run, senior Nathan Madonich in the 3000-meter run, freshman Quentin Broomfield in the 60-meter hurdles, sophomore Westin Short in the pole vault and senior Ahmed Abdel Halim in the triple jump.
Sophomores Nate Newman and Griffin Peyton as well as freshman Tommy Davis all feel as if the meet went as planned, if not better.
"We really exceeded expectations," said Newman, a multi-event athlete.
As for the women's team, the results are just as dominant as their male teammates.
Led by senior Sarah Alflen's two gold medals in the shot put and the weight throw, the ladies took the meet with their 176 points, compared to 109 for Muskingum and a mere 26 for Mount Vernon Nazarene.
Another long list of gold medalists contributes to the team success, consisting of sophomore Emily Brown in the triple jump, sophomore Amanda Clay in the 60-meter dash, senior Sara Johnson in the 60-meter hurdles, sophomore Rachell Resnik in the mile run, senior Abbey Warth in the 800-meter run, freshman Alyssa Acevedo in the long jump, sophomore Nicole Rozsa in the pole vault and JaMilla Holland who won the 200-meter dash.
Meg Teitelman, a sophomore multi-event athlete, contributed the "great team win" to the freshmen stepping up to their calling.  In specific, Alyssa Acevedo, who took gold in the long jump, as well as finishing second in both the 60-meter dash and the 60-meter hurdles.
Acevedo said the team was expected to "destroy them, and that's what we did."
Both teams look to continue their dominance in their upcoming NCAC Quad at the College of Wooster on Saturday the 23rd.