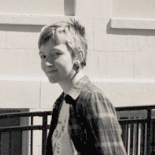 Leia Miza, Transcript Reporter
"She really exemplifies what the bachelor of fine arts program in the fine arts department should be – an intensive path for building knowledge and skills across many art disciplines," said Frank Hobbs, a fine arts professor at Ohio Wesleyan University.
Catie Beach is a senior at OWU from Columbus, Ohio, pursuing a B.F.A degree. She currently lives in the Sexual and Gender Equality House (S.A.G.E) and maintains active membership in  the Student Led Art Movement (SLAM) club. She is preparing for the opening of her first solo show, which will be up by the end of the month.
Although Beach's concentrations consist of painting and printmaking, her potential has not been limited to just that. "The biggest surprise interest was going into sculpture. I'm very interested in the physicality of it. It stimulates you beyond your hands and arms; it's your whole body.
Her upcoming show will display a range of mediums. "It's going to have a lot of my sculpture work, printmaking, painting and maybe some drawing work as well as ceramics. It is still to be curated," she said.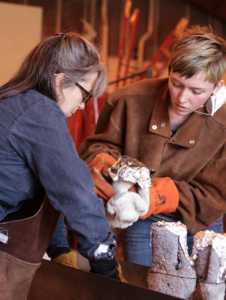 The art exhibit will cover a "retrospective" of the work she has done over the course of her time at OWU. She explained how many of the pieces are related to personal bounds such as family as well as other thematic explorations she has pursued.
"I've always been interested in nature and  themes of death and how there is deception in the beauty of it. Often times, beautiful anomalies are products of destruction. A lot of my works are another focus on that," she said.
Jordana McCallen, a fellow senior fine arts student at OWU, got the chills when she spoke about Beach. "I respect Catie so much as an artist. First of all, she has an innate talent that is really rare. I respect that she aware of that talent but is still humble. I just want more people to see her work."
The opening will take place at the Werner Student Art Gallery of Edgar Hall on Jan. 29 from 6 to 8 p.m.