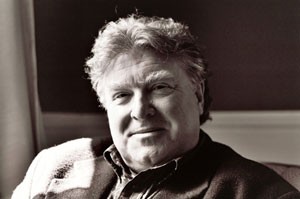 Ross Hickenbottom, Sports Editor
Ohio Wesleyan's Robert Olmstead has teamed up with two Hollywood in-laws, Joaquin Phoenix and Casey Affleck to create a film based on his novel "Far Bright Star."
Olmstead is an "established writer of fiction," with four novels under his belt, short stories as well as numerous articles published in magazines and journals.
He is a New Hampshire native, who grew up on a farm and enjoyed outdoor activities like fishing. He graduated with two degrees from Syracuse University.
Before becoming the director of Ohio Wesleyan's creative writing program, he served as a senior writer at Dickinson College in PA as well as Boise State University.
"Far Bright Star" is the first part of a series, consisting of three novels.
"There are three books, and in my mind they are a trilogy. 'Coal Black Horse,' 'Far Bright Star' and 'The Coldest Night' are loosely connected," Olmstead said.
"They are about these three generations of a family and has to do with the legacy and inheritance of war.  It interests me how in some families, war passes down through them as a trade or occupation if you will," he continued.
Professor Olmstead received his inspiration for the series from a trip he took back in 1997.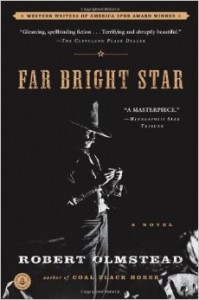 "It started back in probably '97. I was down in Georgia hunting wild boar, and there were all of these guys I was hanging out with, and this goes back to the early 90s and these fathers, sons and grandsons were just waiting around for the next war, you know? It really got me thinking about this legacy of violence, inheritance of war," he explained.
Olmstead feels as if it's embedded into the American psychology that a son follows a father in a path of occupation, but making war is a "whole different story."
The problem is, though, according to him, that in America, we don't see ourselves as a nation of warriors, so it makes for a much more riveting and interesting topic.
Before the inspiration developed, moving Olmstead to write this certain series of novels, or anything else he has constructed, he was a kid who loved to read.
"At a very young age, novels, short stories, fiction, were very, very important to me," he said.
"I just remember at a young age, just thinking; 'wouldn't it be great to do for some people, what some of these people have done for me?' It's like giving back, returning the favor," Olmstead reminisced.
The story involves the visit of an aging cavalryman who leads a group of young men on a hunt for Pancho Villa. It takes place in 1916 and captured the attention of director Casey Affleck.
Affleck, who directed "I'm Still Here" and "The Book of Charles," and acted in "Manchester by the Sea," "Interstellar" and "Gone Baby Gone," is the younger brother of Ben Affleck.  He described it as a "beautifully written story on pain and loss in the drive and resilience one finds within themselves to continue through the day."
Affleck, in the midst of starting a new production company, approached Olmstead in 2014 and gave him an offer he couldn't refuse.  Contracts were signed in November 2014, the screenwriter finished his sample and just this past October, Olmstead received the screenplay.  
"It blew me away," he said. "It was extremely powerful."
It was announced that Joaquin Phoenix, known for his roles in "Gladiator" and "Walk the Line," would play the lead role in November 2015.
Olmstead admitted that it was a strange coincidence, having Joaquin Phoenix star in his production because he starred in one of Olmstead's colleague's films, "Buffalo Soldiers."
Olmstead looks forward to the release of "Far Bright Star," and the positive impact the publicity will have on OWU, which has already started.
Chris Mondon, OWU graduate, is familiar with Olmstead's work, and "can't wait for the movie to be released."
"I love Joaquin Phoenix and this whole storyline," he said.
The production process is still in action, and release information will be communicated within the year.