Transcript Staff
A crescent moon had risen in the sky as the temperature hovered around 20 degrees Fahrenheit when Luke Gabbert and a friend wandered back from Clancey's Pub on Feb. 5. Only one would successfully make it back to campus.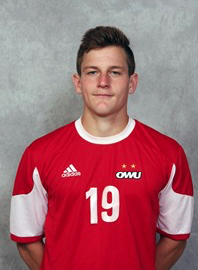 Gabbert, a freshman from Lewis Center, Ohio, was found dead on the morning of Feb. 6. He was spotted in the Delaware Run, a muddy stream flowing near OWU's campus. The events that occurred in a short span of time would leave people wondering what happened to Gabbert, a soccer player and new pledge of Phi Kappa Psi (Phi Psi)
As of April 13, OWU banned the Phi Psi chapter from campus.
A Transcript investigation has pieced together Gabbert's final moments on that night and the following morning by talking to a variety of sources, some of whom requested and were granted anonymity because they feared retribution. One of those who did talk to the newspaper on the record was freshman Phil Foisie, also a new pledge of Phi Psi.
Captain Adam Moore of the Delaware Police Department said, "A gentleman on Saturday morning was walking to the [NAPA] auto parts store on Spring Street and while walking on Franklin Street discovered Mr. Gabbert."
The cause of death is being investigated by the Delaware Police. As of Wednesday, Feb. 17, only preliminary autopsy results have been released by Delaware County Coroner's office.
"We have the autopsy report, and no obvious cause of death has been found," said Moore. "No visible traumatic injuries were found and the coroner is now conducting forensic testing for internal injuries and also for toxicology, the results of which are awaited."
A detailed autopsy and toxicology report is expected to take 8-10 weeks, according to the coroner.
Investigators have been on campus trying to piece together where Gabbert would have been prior to his death, said Moore. In addition, President Rock Jones said Public Safety has cooperated with the police as requested.
Investigators have been talking with a large group of people, including sports teams and friends, according to Moore.
Clancey's Pub declined to make a statement to The Transcript. Gabbert's family also declined to comment.
_____________________________________________________________________________________________
Timeline of Events
Friday, Feb. 5
Around 10:00 p.m. – Phi Psi finished its pledge ceremony.
Around 10:15 p.m. – Pledges allegedly began drinking alcohol.
According to one source, Gabbert brought his own alcohol, while another source said it was served to pledges by Phi Psi. The fraternity would not answer questions from The Transcript.
Saturday, Feb. 6
Between Midnight-12:30 a.m. – Gabbert went to Clancey's Pub.
Around 12:45 a.m. – He vomited  inside the bar and was asked to leave.
12:51 a.m. – Upon seeing police, who had stopped a car on Spring Street, Gabbert and a friend split up fearing being questioned by the police.
Between 1-1:30 a.m. – The same friend went to Gabbert's residence 256 W. Central Ave. to check if he had returned and then to Smith Hall to look for him.
10:24 a.m. – A passerby found Gabbert's body in Delaware Run adjacent South Franklin Street.
10:30 a.m. – New Phi Psi pledges gathered at the fraternity house and a source reported this was when the fraternity brothers noticed Gabbert's absence.
10:40 a.m. – Gabbert pronounced dead.
Shortly before noon — President Rock Jones notified about Gabbert's death.
12:42 p.m. – Transcript editors notified of a student's death.
2:06 p.m. – OWU community informed.
Saturday, Feb. 13
Funeral for Gabbert held at Grace Church in Powell.
_____________________________________________________________________________________________
This is an ongoing investigation, if anyone has any information they should call the Delaware Police Department at (740) 203-1111.