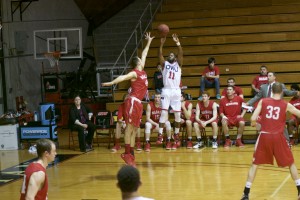 Areena Arora, Managing Editor
On Tuesday, Ohio Wesleyan hosted the quarter final match-up for the North Coast Atlantic Conference tournament at the Branch Rickey Arena, and defeated visiting Wabash College.
With a minute and half remaining, amidst a crowd of over 300 in attendance, the score was 97- 75 in favor of OWU, ultimately ending with a 100-80 win for the Bishops.
Head Men's Basketball Coach Mike Dewitt said, "It's a really good win for us…it's nice to be able to still play this weekend."
Wabash began with a 11-4 lead but toward the end of first half, OWU had a lead of 57-42.
"It's one of the best seasons in school history and we just hope we can continue that as long as we can," Dewitt said.
Kyle Brumett, head basketball coach at Wabash said, "(OWU) is really good. We've had success at times against them because they haven't shot it as well as they have shot tonight. (OWU's) game plan is out of the window, definitely and that's why they are 1st place and we're 8th."
Sophomore Shooting Guard William Orr said, "This is the best group of players I've played with. We know the rules, we know what we need to know to win and that's what we did tonight."
According to the Battling Bishops website, the NCAC tournament semifinals and championship game will be held at OWU on Friday and Saturday. In the first semifinal, Hiram College will play against College of Wooster, followed by the second semifinal between Denison University and OWU.