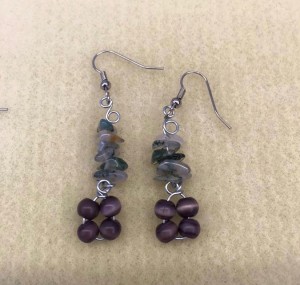 David Fradkin, Transcript Report
Chris Mickens, a Public Safety officer, discovered his passion for designing jewelry on an Ohio Wesleyan mission trip to the Rosebud Indian Reservation in South Dakota.
As an activity to pass time, Mickens and the attending students started making traditional Lakota beadwork. But it wasn't until the summer of 2013 that Mickens began producing jewelry.
During that summer, Mickens' mother passed away. His mother had a vast collection of earrings.
"If I didn't know what to get [my mother], I knew I could always get her earrings," Mickens said.
Initially, it was a coping mechanism and that fostered his passion for designing jewelry, especially earrings.
For more than 20 years, OWU has had a relationship with the Rosebud Reservation, which is the home of the Sicangu Sioux, one of the seven tribes of the Lakota nation.
"OWU has been sending mission teams for many years now. It was Chaplin Powers' brainchild basically," Mickens said.
Creating jewelry also helps him with deal with his mild obsessive-compulsive disorder (OCD). He said designing jewelry helps prevent his OCD from occurring in other places in his life and he can use it as an advantage when creating pieces of work that require fine detail.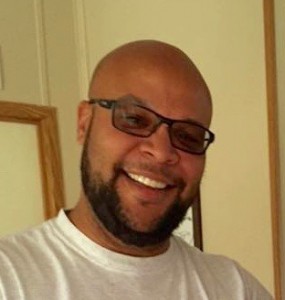 As of now, Mickens has only designed some basic necklaces and bracelets and noted he is planning to create some that are more complicated.
Other creations include beading guitar strings and some medallions, specifically ones in Lakota style that are made in a circular piece of leather where beads could be sewed on to make a variety of patterns.
Mickens uses a large assortment of materials in his work. When he does "beading," it particularly relates to the Lakota style. The beads he used are called seed beads.
"They are very small and made of glass, Mickens said. "And the colors of them span the spectrum."
One of Mickens' best pieces is untitled, but it has a larger glass rainbow bead in the middle, surrounded by wire that has smaller beads around it.
He started out with very little supplies: beads, headpins and ear wire. "This is the pair [of earrings] that kind of told me I knew what I was doing," he said.
Mickens' jewelry is mainly sold on his Facebook page to friends and family. One of his goals is to use the revenue he generates through his sales to help the Cuba mission team who has some financial struggles.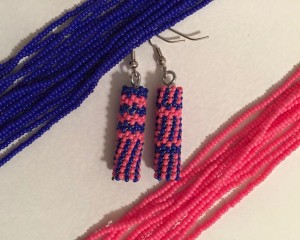 But he said his ultimate goal is to open a nonprofit organization, where all proceeds would be used for either purchasing school supplies for elementary school kids or provide a scholarship.
His mother helped out the community by donating school supplies to elementary school students, so starting a nonprofit organization honors his mother, he said.
Mickens would not consider labeling himself an artist or someone who comes from an artistic background.
He studied physical education and recreation of dance briefly in college, but came home after his second year when he had a child.