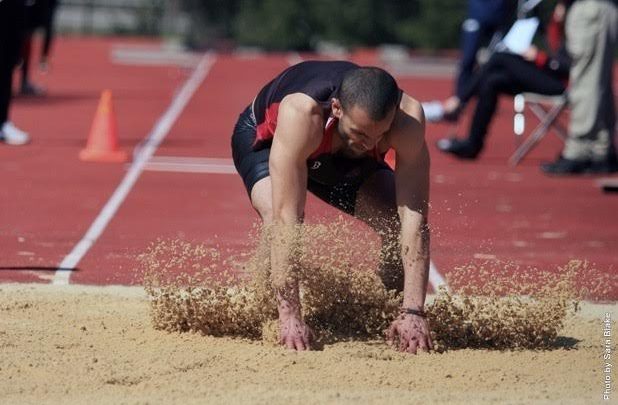 Spring Spotlight: Ahmed Abdel Halim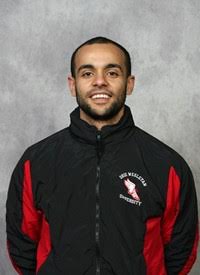 Ross Hickenbottom, Sports Editor
Olivia Lease, Online Editor
Track athlete Ahmed Abdel Halim starts off his senior season on a high, being named athlete of the week twice already and taking home gold in the three competitions he has participated in.
Halim is in his fourth year of competing in the triple jump for the Bishops. He has increased his personal best every track season.
In high school, Halim played six sports. Yes, six of them, but triple jump wasn't a part of his athletic arsenal back then, just high jump. He had participated in track first when he lived in England, and since then stayed with it.
He said, "I really wanted to focus on track to see what my potential could be if I put absolutely everything into it."
Halim is currently the top-ranked triple jumper in the state of Ohio and third in the United States for Division III schools. He said, "It's just a huge honor to be in the position I'm in at this point and I want to capitalize on this opportunity I have in front of me."
He said he hopes to ultimately qualify in the long jump and triple, and go on to win in the triple jump on the national stage.
So far, Halim is reaching that goal seeing as he broke a school record on March 26 at the Cedarville Yellow Jacket Collegiate Outdoor Open.  On his first triple jump of the day, he turned in a 47-9¾, which helped win the event and break the school record of 47-7¼ set by Craig Neeley in 2000.
Coach Kris Boey is in his 14th season as head track coach at Ohio Wesleyan, where he has witnessed plenty of successful track athletes and says that Halim is " definitely a team player. He personifies what we would want from any of our athletes. He cares as much, if not more about others success, compared to his."
Assistant Coach Seth McGuffin said he has seen Halim grow as an athlete since his freshman year.
OWU track and field just won the indoor conference title for the first time since 2010 and McGuffin said, "Ahmed was a huge part in that and it will carry over for us this outdoor season as we look to win the outdoor title." He said he is proud of Halim for earning the title of All-American honors indoors since that has been a goal his whole career.
Words used to describe Halim from his coaches, whom are around Halim more than most, are, "persistent, hard-working and passionate."
The same sort of compliments on behalf of Halim were given by his teammate and friend, Aaron Port, a fellow senior track athlete, who said, "the guy is just day in and day out with taking care of his body so that he can perform to his full potential and being one of the hardest workers as well."
Port added, "Not only does he worry about himself though, he is always reaching out to help other people on the team. The record and NCAA championship aren't out of the picture."
Along with the team's success, Halim looks to continue his own, as the indoor season progresses and the outdoor season approaches.
The men's track and field team will compete next at the All-Ohio Division III Championship on April 16, in Selby Stadium on the George Gauthier Track.
Halim is majoring in international studies and minoring in religion. His hometown is Cairo, Egypt but he grew up in England until moving to Toledo, Ohio. His parents now reside in Sparks, Nevada.