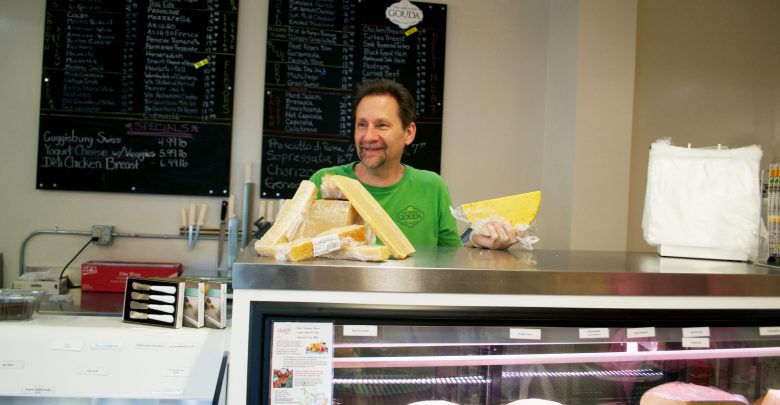 Cheese meets Sandusky Street
By Gopika Nair, Chief Copy Editor
Ohio Wesleyan students and Delaware County residents don't have to travel far to purchase gourmet cheeses and candies from Wisconsin, Indiana and Britain.
The Greater Gouda, located between Typhoon Asian Fusion Bistro and Hamburger Inn Diner on 12 N. Sandusky St., opened June 19 and business has been booming since, said co-owner Terri-Lynne Smiles.
Smiles said she and her husband Mark opened the shop in downtown Delaware because they discovered they had to drive to Amish Country, Plain City or Columbus to purchase Amish cheese, meats and other gourmet foods unavailable in Delaware County.
"We kind of looked around and loved downtown Delaware," Smiles said. "We would just see a lot of people walking around and hanging out and thought, 'Delaware's ready for [the Greater Gouda].'"
Most of their customers have been Delaware County residents, but the store is attempting to widen their audience to include OWU students. During freshman orientation, the Greater Gouda provided coupons, giving all freshmen a 5 percent discount.
The shop is also organizing a September giveaway specially for OWU students. If OWU students sign up with their email address, they will be entered into a random drawing to win a 4.5 pound bag of Mike and Ike's candies. No purchase is necessary to enter the giveaway.
Sophomore Anna Pakrasi said the co-owner suggested she sign up for the giveaway when she first visited the store.
"I haven't tried anything from the store yet … but I saw some jams that looked good and I want to try their cheeses," Pakrasi said.
The shop carries more than 80 different types of cheese, along with various deli meats and candies. Most cheeses cost about $4-6 per pound, and are imported from various parts of the country and world.
Some of their bestsellers include the Wensleydale with cranberry and the Cotswald from Britain, both of which were introduced to the store after customers requested it, and Big Ed's gouda, originally made in Wisconsin. Customers can sample cheeses on request.
Kevin Farino, a customer who frequents the store at least once a week, said he purchases something different every wee.
"The Cotswald cheese is actually my favorite cheese," Farino said.
The Greater Gouda also recently introduced "toastabags," which are useful for students, Smiles said. Toastabags are used to make grilled cheese sandwiches in a toaster. The bags can be reused up to 50 times.
The store is also eventually planning on introducing non-food related events to the store, like musical performances, book readings and recipe demonstrations, Smiles said.
Currently, the store offers weekly taste testing opportunities to the first 10 people who sign up.
Since the store's opening, the owners have organized two "Gouda Gives Back" days and plan to do one every month.
"We pick a local charity and … on that day, a percentage of all of our sales are donated to that charity," Smiles said. "We also try to put out, through our social media outlets as well as some literature in the store, just some more information about the charity to get them some more exposure."
One of the charities the store supported was People In Need Inc. and the day is designed to give back to the community of Delaware.