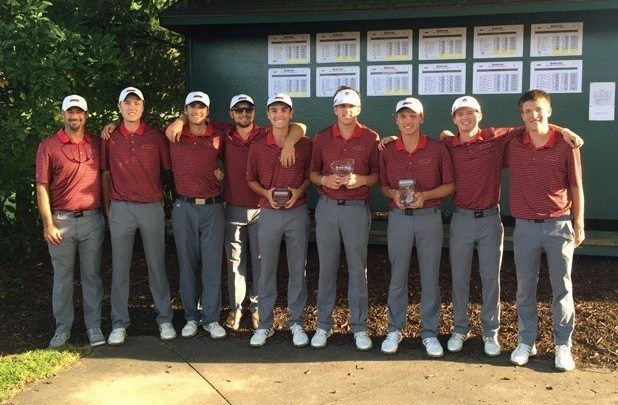 Men's golf wins Gatorade Collegiate
By Julia Snyder, Transcript Reporter
Ohio Wesleyan University's men's golf team competed in the Gatorade Collegiate in Dover, Ohio at Zoar Golf Club Sept. 3 and 4 and came in first of 10 teams.
The team shot scores of 282 and 297 respectively, earning a total team score of 579, three strokes above par, beating out Allegheny by 16 strokes.
Sophomore Adam Armstrong contributed to the total team score by shooting a combined score of 137, placing second in the tournament by one stroke.
The other three contributors were freshmen Will Efkeman, Aunders Erickson and Shane Hoben, shooting combined scores of 147, 147 and 150 respectively.
Coach Ian Miller said the team was well prepared and he is looking forward to seeing the growth of the team while working together and pushing each other to improve.
"[We] executed our plans for attacking the course and responded well to holding the lead after round one," Miller said.
Armstrong said he feels pretty confident that the team can finish top three of every tournament.
"There should be no reason why we shouldn't. We did really well, it's the first tournament we've won since 2014," Armstrong said.
Junior Zach Shahrokhi said he was excited about having beat Allegheny.
"We beat Allegheny, which is good because they were runners-up in the conference last year and we were happy to beat them because that shows that we're competitive within the conference and we are capable of beating [Allegheny] in conference this year," Shahrokhi said.
The team has six freshmen and Shahrokhi said this is the most competitive team he has played with.
"The freshman have added a lot of talent and depth to the team which has helped us to improve our consistency," Shahrokhi said.
Miller said, "The assimilation of the freshmen into the team has been very good. We started that process last spring—getting the incoming freshmen talking and keeping up with each other throughout the summer. That has helped the returners become familiar with them and their abilities and that led to an immediate acceptance and respect."
The team is more competitive now and they are looking forward to winning some more tournaments and playing better in conference this coming spring.
"We're looking forward to one of our home tournaments this coming weekend and feel confident we can beat the other teams at Plum Brook Country Club in Sandusky, Ohio," Armstrong said.