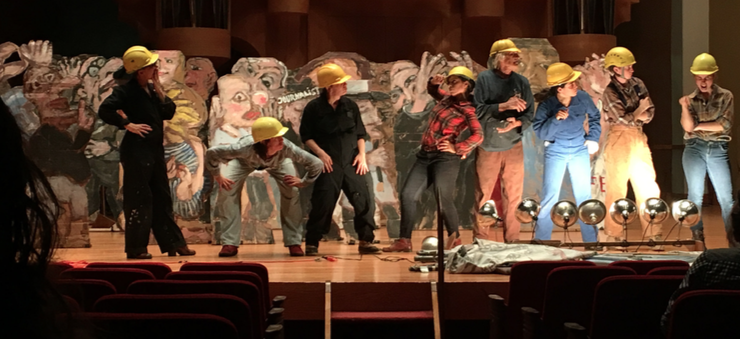 Bread & Puppet Theater feeds Gray Chapel
By Courtney Dunne, Editor-in-Chief
The Bread and Puppet Theatre made a stop at Ohio Wesleyan Oct. 17 to do its most recent performance of Underneath the Above Show #1 (inspired by the forthcoming elections in the greatest country in the history of the universe).
The theatre group, started by Peter Schumann in the 1960s to protest the Vietnam War, has been coming to OWU about every other year for the past eight years to perform their shows that make large statements on current events in the U.S.
When asked what people should take away from the political commentary they make, actor Josh Krugman responded that he couldn't say because like the bread shared after the show, it should be chewed on in order to release the nutrients.
After the show, the company shares the 'bread' part of the Bread and Puppet Theatre. Schumann makes bread everyday for the company and he believes that is what should fill people up.  At the end of every show, the cast offers the audience some bread to share within the community.
"The show is skeptical of this kind of state power and its capitalist and superficially democratic manifestation and that suspicion of the  illusion that everything will change with the next election, it highlights the life in the understory, the life of the people," Krugman said.
The founder Schumann makes the puppets out of cardboard and according to Krugman, expired latex paint.  The company puts on shows with recycled cardboard, wood and uses noisemakers from the dollar store to produce the score for the show.
The Bread and Puppet company is ending the show soon because  the king character that represents the current presidential candidates cannot be removed from the story.
The company offers apprenticeships for students of all trades interested in changing the world through a theatrical setting at their sustainable compound in Vermont. Many of the performers who performed at OWU started in the apprenticeship program and were invited to join the fall tour.
Marcus Fioravante, a new member to the company, said, "I had never heard of the Bread and Puppet Theatre and a friend told me about it and I had always had an interest in puppetry and a love [for] social activism and this seemed like the perfect fit, so I applied to the apprenticeship, which is where I started with the Bread and Puppet Theatre."
Through the combined efforts of the House of Peace and Justice, the English department, Wesleyan Council for Student Affairs, PRIDE and the Chaplain's Office, the Bread and Puppet Theatre was able to come and showcase their latest show.