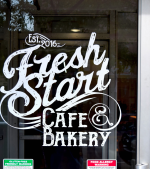 Student poetry series hosted at bakery
By Gopika Nair, Chief Copy Editor
Several Ohio Wesleyan writers took a break from studying for midterm exams by sharing poetry and prose at an open mic event.
Speak/Easy, the open mic reading series affiliated with OWU's English department, was introduced at Fresh Start Cafe and Bakery Oct. 10 and will be a monthly event.
Seniors Alyssa Clark, Curtis Taylor and junior Nicole White organized the event with the help of Amy Butcher, assistant professor of English. Butcher had the idea of arranging a student-run readers' series on campus, White said.
Fresh Start is normally closed Mondays, but Butcher convinced the bakery's owners to open that Monday evening to house Speak/Easy's first open mic event.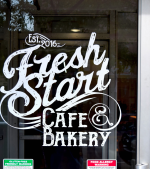 "We chose Fresh Start because we wanted a venue that didn't feel academic and instead felt cozy and welcoming to writers," Clark said. "Fresh Start was open to working with us, had the room … and was eager to bring in more people to their new bakery."
Nearly 40 OWU students attended the event, while around 15 shared their work. Some of the students who participated in the event included senior Chase Smith, junior Daniel Haygood, sophomores Em Sutliff, Emily Shpiece and Nash Bonnema. At one point, the manager of Fresh Start also hopped on stage to share a piece he had written.
Speak/Easy contributes to students' growth as writers by giving them a platform to share their work, Clark said.
"One of the hardest aspects about being a writer is that you essentially need another set of eyes—or ears in the case of poetry and slam poetry—to read or hear your work," Clark said. "An open mic night specifically for writers gives students a great opportunity to see how their pieces come across to an audience and to feel how their pieces sound out loud."
White also said the open mic night gave students a chance to support the writers on campus, adding that the event provides something for everyone.
"Sometimes sharing something personal can be daunting, especially with a microphone, but I think we had a pretty open and inviting space for the first event," White said.
The next Speak/Easy event will be held from 7-9 p.m. Friday, Nov. 11 on Veteran's Day. The theme of the event is 'War' and specific topics can range from war of the heart or mind, war around the globe or war at home, White said.