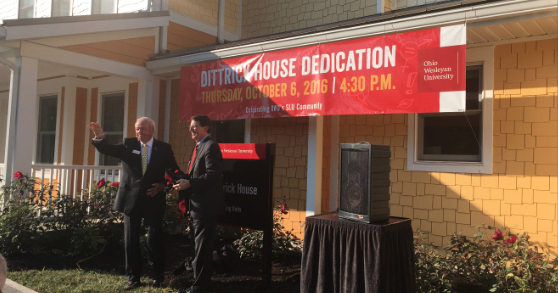 Dittrick House dedication
By Leah Miza, Photo Editor
On Oct. 6, people gathered around the Inter- faith and Sage house, in dedication of the new establishment to donor and board of trustees member, Douglas Dittrick.
Dittrick said he was happy and ready to contribute to the SLUs. "Being on the board, you're aware of the needs for our residential housings. We want to upgrade and make it a better place," he said.
President Rock Jones added, "His gift to fund Dittrick House reflects that passion and his interest in supporting the improvement of student housing on campus."
The new structures, however, are not only providing tangible worth, but are also enhanc- ing the goals associated with SLUs.
"SLUs are not defined by their physi- cal spaces; they're defined by the people in
them and their missions, but having a physical space that is nicer makes our mission so much easier," said Emma Drongowski, trustee.
As SLUs were sort of "tucked" into campus, Drogowski said she believes the new location will attract the community in understanding SLUs but also encourage joining them. "Every- time you walk to and from class, you can see … this is a new building, it's a cool place to live and it piques interest," she said.
Jones said, "The Dittrick House is a fabu- lous addition to our campus that will serve students for generations to come. The SLU community is an important element of campus life. Students in Dittrick House will share their passions with one another and with the campus in ways that contribute greatly to our educa- tional mission."
"The enthusiasm of the students who are here is very warming to the heart and certainly makes it all worthwhile," Dittrick said.