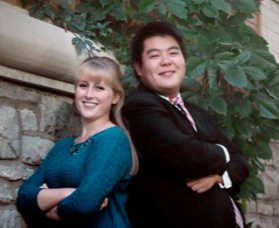 OWU's music students wow at senior recital
By Leah Miza, Photo Editor
Ohio Wesleyan seniors Patrick Tang and Melody Smith came together to present their senior recital Oct. 30.
Both performers' repertoire was mainly chosen by Jennifer Whitehead, assistant professor of music at OWU.
"I trusted Dr. Whitehead's … judgement on what songs I should sing," Tang said.
Smith added that her repertoire included pieces she worked on over the past few years, and some selections from the beginning of the semester.
However, the performers were not limited to their professor's choices. "I trust what she suggests, but we do work together to select songs," Tang said.
The two decided to perform together after being friends since freshman year. "We thought
it would be great to be able to do one of the highlights of senior year together," Smith said.
Tang said, "As each year came and went, we knew the senior recital was approaching closer, and so halfway through junior year, we just decided that it would be really cool to share this moment together because it could be one of the last times we perform together."
Both Smith and Tang said they felt their performances went well. "I think my voice has come a long way and that I've made a lot of improvements since I came to OWU. It was so rewarding to be able to showcase all my hard work," Smith said.