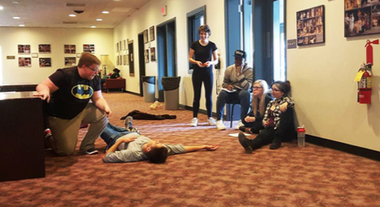 Wesleyan Players produces six plays in 23 hours
By Liz Hardaway, Arts & Entertainment Editor
In the span of 24 hours, six plays were written, directed and performed at the Studio Theater in Chappelear Drama Center Saturday, Oct. 29.
With six playwrights, six directors and 12 actors, six plays were created out of thin air 23 hours before the curtain rose. The only direction the group was given was a specific line, a gesture and a prop they had to include in their performances.
The event was held to preview the work of a possible new Ohio Wesleyan club Wesleyan Players.
"[The Wesleyan Players] are exploring different kinds of alternative forms of theater we don't get a chance to work with usually," said junior Hailey LaRoe, the president of Wesleyan Players.
One form of the alternative art form was an impromptu 23-hour play festival called Instant Theatre, suggested by junior Rachel Scherrer.
Directors and playwrights were paired together at 9 p.m.on Friday night, and actors were given their scripts the next morning. The rest of the day included directing, organizing and figuring out the technical aspects of each of six plays.
Even though the playwrights had a little bit of direction, themes ranged from a mutual boyfriend of siblings, millennial aliens, a woman obsessed with gummy bears and even a play about writing a 23-hour play.
For such a short time-frame, overall the event went smoothly, said junior Audrey Castañeda Walker, an officer of the club.
They are hoping to make this event an annual tradition to give even more students the opportunity to enhance their skills outside the classroom, as well as give more and more students performance opportunities.
Wesleyan Players was a performing arts group on cam- pus nine years ago, rebooting this year to give students the opportunity to bring people in the theater department who may not be able to fully commit to the department, while also experimenting with different types of theater in a fun setting, said LaRoe.
The prop used for these instant plays was a blue, light-up handheld gummi bear, which Lennon used as the end of the fairy-godmother's wand to grant Cinderella's wishes.