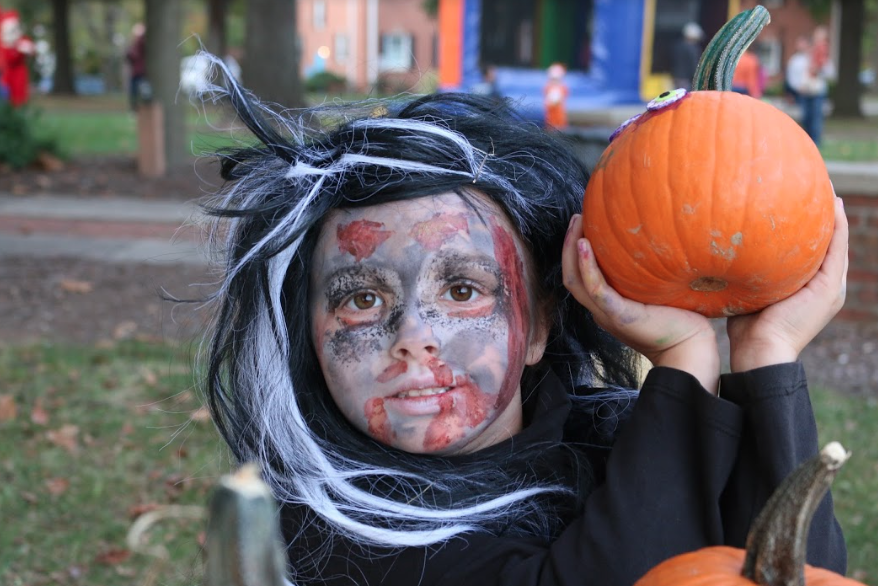 Annual Fall Festival celebrated
By Evan Walsh, Transcript Reporter
Ohio Wesleyan added a new chapter to its haunted history by hosting the second annual Fall Festival on Fraternity Hill.
Nearly 200 members of the OWU and Delaware communities were present Oct. 28, building on the success of last year's Fall Festival.
Most families came dressed for the occasion even though it wasn't held on Halloween night. Children were encouraged to go to the fraternities, where affiliated men handed out candy.
Other Halloween related activities were of- fered, including pumpkin carving, themed face paint, cornhole and a bouncy house.
Organized by OWU's Faith and Justice Club, planning began earlier this semester and funding was approved by the Wesleyan Council on Student Affairs shortly after.
Lisa Ho, assistant chaplain and faculty supervisor of Faith and Justice, thanked Luke Waters'16 for coming up with the idea last year.
Ho recognized the importance of the event as a way to continue to develop the relationship between OWU and the Delaware community. She applauded the efforts of members of Faith and Justice as well as OWU's Greek life.
"[Fall Festival] has done a good job building a bridge between the Delaware community and our school and its students," Ho said.
Several OWU faculty members and their families showed up. Dana Behum, assistant director of student involvement for fraternity and sorority life, brought her children.
Behum said she was impressed with the level of engagement the students passing out candy showed.
"Everyone was super respectful and I really enjoyed seeing my children interact with the [affiliated men]," Behum said.
The students who participated shared a similar sentiment.