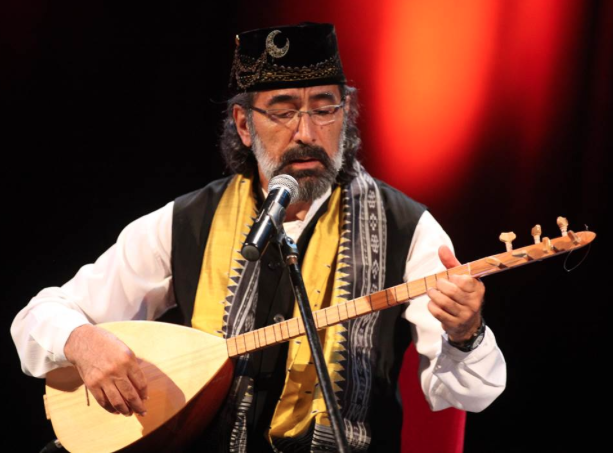 Sufi musician shares his talent
 By Reilly Wright, Transcript Correspondent
The Benes Rooms celebrated Islamic culture as Ohio Wesleyan students sang and read poetry with a guest Sufi musician Oct. 25.
Sufism is a mystic Islamic belief where followers aim being one with God and following the Sufi path. Sufis focus on philosophy, poetry, music and dance to feel ecstasy and unify with God.
Latif Bolat presented to an audience of 70 people. He played the baglama, a long-necked lute, and sang as the audience recited Sufi poetry and joined in his chorus.
Bolat began his presentation of "The Mirror of the Unseen: Sufi" by discussing the Middle East's territory and the history of Sufism. From one of the first Sufis, a woman named Rabi'a, to Sufism's intent on being one with God through music and poetry.
"It took me a long time to gather this knowledge, so I want it out," Bolat said.
Bolat visited OWU classes during his visit, including Susan Gunasti's, associate professor of religion, Introduction to Islam, to discuss Sufism and Islam with students.
"It's one thing to read a primary source … it's another thing to see an example of what your teacher's talking about and to experience that," Gunasti, said.
"That is a different type of learning, so any opportunity I have to expose my students to those interactions, learning opportunities, I mean, that's just golden."
Freshman Lauren Mangold, a student in Gunasti's Islam course, also attended the event hosted by OWU's comparative literature and religion departments.
"I'm a very visual and also applicational learner, so to be able to learn about [Sufism] in my Islam class and then see a presentation of what I am learning about, it just reinforces my understanding of the subject," Mangold said.
Bolat, a Turkish native, studied classical opera in college before working in computer coding in California.
Bolat realized his passion for Turkish music presents the 28 years ago and began a career in performing and lecturing Sufism across the globe.
"In Turkey, I cannot do any of this because that is a place that everybody thinks that they know everything," Bolat said. "But here, there is that openness, the questioning, things like that. There are curious minds."
"It was such a unique opportunity to have a Sufi musician come," Gunasti said. "It's so wonderful to find this way for my students to have this real au- thentic cultural experience. The caliber of the music for the students to experience, it was all top-notch."
Bolat holds accomplishments such as performing music for the soundtrack of George Lucas Studios' "Young Indiana Jones" and writing the book "Quarrelling with God: Mystic Rebel Sufi Poems of the Dervishes of Turkey."