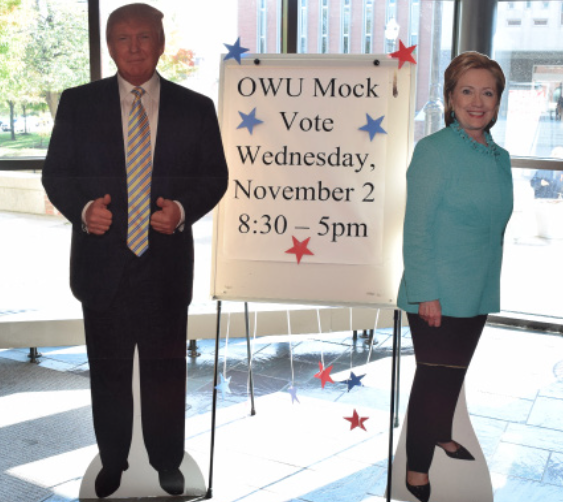 OWU's mock vote falls flat
By Matt Maier, Transcript Reporter
Would it be Hillary Clinton or Donald Trump?
This was the question Ohio Wesleyan wanted to know when they held a mock vote Nov. 2.
The Student Involvement Office, located in the Hamilton-Williams Campus Center, held a mock presidential vote and the result was what the students on this campus would expect.
Clinton won the mock vote in an unsurprising victory. But in total, there were only 192 votes counted out of the roughly 1,600 students on campus.
Of these 192 votes, 122 went to Clinton while Trump received a mere 45 votes. Gary Johnson received nine votes, Jill Stein received one vote and 15 other write-ins were received.
"This mock vote was just a fun event for the students since it is an election year and we were just curious on how they were planning to vote in this election," said Chloe Holmes, a student who works in the Student Involvement Office.
Would this mock vote correlate to the winner on Nov. 8? Students thought so.
"I think the students on campus here at OWU know exactly who is going to win," said senior Kelly Schade. "It doesn't surprise me at all that Hillary won the mock vote."
Clinton won the mock vote, but Trump won the presidency.