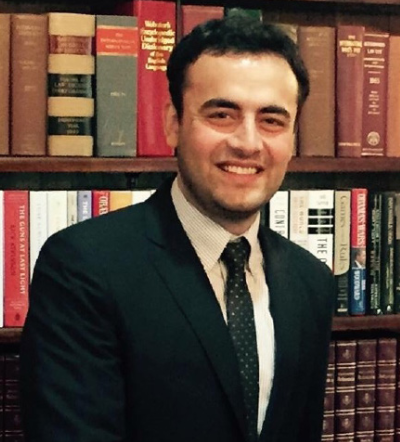 Class of 2017 trustee elected
By Courtney Dunne, Editor-in-Cheif
The seniors have voted and the votes are in.
Current senior Daud Baz was elected to be the Class of 2017 trustee. Other candidates who ran included Lee LeBoeuf and Shashank Sharma.
Each year the graduating class elects a member to the Board of Trustees. The class of 2016 elected representative is Emma Drongowski.
During his time at OWU, Baz has served in multiple other leadership roles in diverse organizations across campus including president of Horizons in his sophomore year, Treasurer of Wesleyan Council on Student Affairs and philanthropy chair and corresponding secretary of his fraternity Phi Gamma Delta. He also serves on the senior class council and the Student Conduct Board.
"I have been at OWU for four years and when I started off, I never thought I would be so involved because coming from Afghanistan, there aren't a lot of opportunities," Baz said. "I never thought I would do anything this big in school."
Baz said he wants to continue to imporve his leadership skills while bringing new ideas and change to the table.
"I am not going to change OWU overnight and I am not going to change everything, but I want to be a small drop of water in a big pond," Baz said.
"Throughout my time at OWU, I saw leadership opportunities and I needed to grow and I saw the Board of Trustees position as an opportunity to do that."
He will be a full voting member participating in discussions and making decisions alongside seasoned trustees.
"As a young student, I am voicing concerns of students and what they want to see changed," Baz said. "I have learned a lot at OWU and I can take that home and do something bigger."
Baz has also worked with the Embassy of Afghanistan on women's rights. Completion of his internship pushed him to join more organizations on campus, as well as take on some leadership roles.
Baz said he would like to improve the dining services for students by trying to bring back options like the Library Cafe and Trattoria.
After receiving news that he would be the Class of 2017 trustee, Baz posted on his personal Facebook, "Someone once said, 'Little drops of water make the ocean big.' Thank you for entrusting me to be part of something bigger."
"I wanted to take the time to express my appreciation to all those who supported my journey in being elected as Class of 2017 trustee. I am humbled to serve as a vessel of progress and unity for the OWU community. When I have the decisions to make, I will choose action, I will strive to always wear my values, to work diligently knowing you have placed your faith in me. Last but not least, I must acknowledge the candidates, Lee LeBoeuf and Shashank Sharma, in running a competitive race. Thank you once again."
"I want to leave a position in better shape or at least the same shape," he said.
Baz has already received messages from trustees congratulating him, which he said surprised him at how fast news spreads.