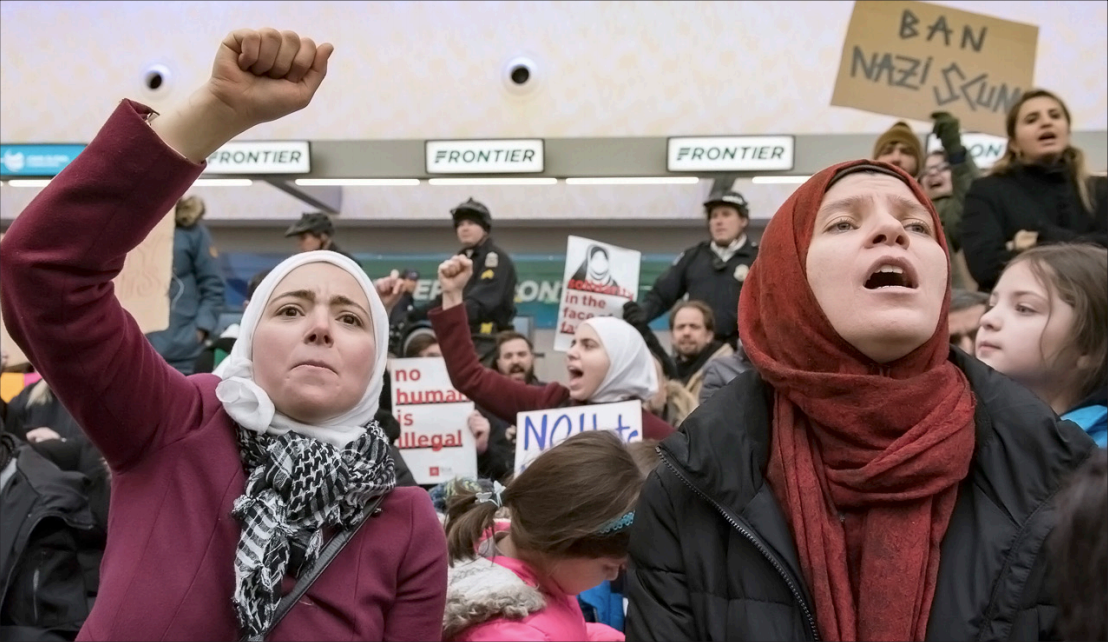 By Gopika Nair, Editor-in-Chief
President Donald Trump's executive order on immigration could affect international student enrollment at Ohio Wesleyan, especially among Muslim applicants.
The number of Pakistani applicants is up by 78 percent for fall 2017, according to an enrollment update by Susan Dileno, vice president for enrollment at OWU. The update was sent as an email to faculty on Jan. 19. Trump signed an executive order Jan. 27, barring citizens of seven Muslim-majority countries from entering the U.S. for 90 days.
The ban extends to students and visitors with valid visas as well as green-card holders. The seven countries include Iran, Iraq, Libya, Somalia, Sudan, Syria and Yemen.
When Sean Spicer, White House press secretary, was asked why Pakistan and Saudi Arabia weren't included in Trump's order, he suggested it could be included at a later date, according to ABC News.
"We are communicating with our admitted international students and telling them that OWU is a welcoming and safe place," Dileno said. "We intend on organizing a chat for applicants and we will be creating a video that features a recent graduate from Pakistan."
Dorota Kendrick, assistant director of the International and Off-Campus Programs office, said no current OWU student is a citizen of any of the seven banned countries, according to the IOCP's service list.
In response to Trump's order, President Rock Jones sent an email to the campus community on Jan. 30, writing that "a diverse student body adds to the breadth and depth of all learning and is vital to our collective efforts to understand and address the world's most pressing issues."
Twice during Jones' tenure, the president of the Wesleyan Council on Student Affairs has been Muslim, he said. The two most recent additions to the Board of Trustees are also from Pakistan and Afghanistan.
Sophomore Ali Chaudhary, a U.S. citizen who was born in Pakistan, said he is worried about what this ban will mean for international students who are in the U.S. on student visas.
"Hopefully, the ban is only temporary and it results in making the country safer," Chaudhary said. "However, America has a history of being accepting to immigrants and that's what made it so special to a lot of people in the world and I hope this ban doesn't signal the end of that."
Ji Young Choi, associate professor of politics and government at OWU, said the possibility of Trump's immigration ban being ruled illegal by the courts is low because legal disputes will arise and that would be time consuming.
"I think the U.S. government has a right to determine who can get in and get out across the American border," Choi said. "But what is problematic is President Trump's executive order is based on a specific religion and particularly national origins … It is legally very controversial and definitely goes against American values like openness, freedom, diversity and tolerance embedded in the U.S. Constitution."
Trump's executive order could also incite anti-Americanism feelings in many Middle Eastern countries and terrorists groups might take advantage of that, according to Choi.
Junior Jannat Mazari said the order could make international students rethink their post-graduation plans, especially if they had intended to stay in the U.S.
"It'll put them on edge not knowing if their country will be next," Mazari said.
Protests haven't taken place on OWU's campus, but senior Emma Nuiry, a member of the Peace and Justice House (P&J), said she knew of members from the P&J house who went to protests held at John Glenn Columbus International Airport.
"It's hard not to feel hopeless and scared, but I think resistance involves persistence," Nuiry said. "It will get worse before it gets better … [Change] can be institutional like [Trump] is doing, but I believe that massive change happens on the individual, interactional and collective level, where smaller groups get together and create relationships across differences and build coalitions of solidarity.
"I find comfort in the groups he is uniting by trying to demonize and oppress them. The key is to show that when some of us don't have power, none of us do."