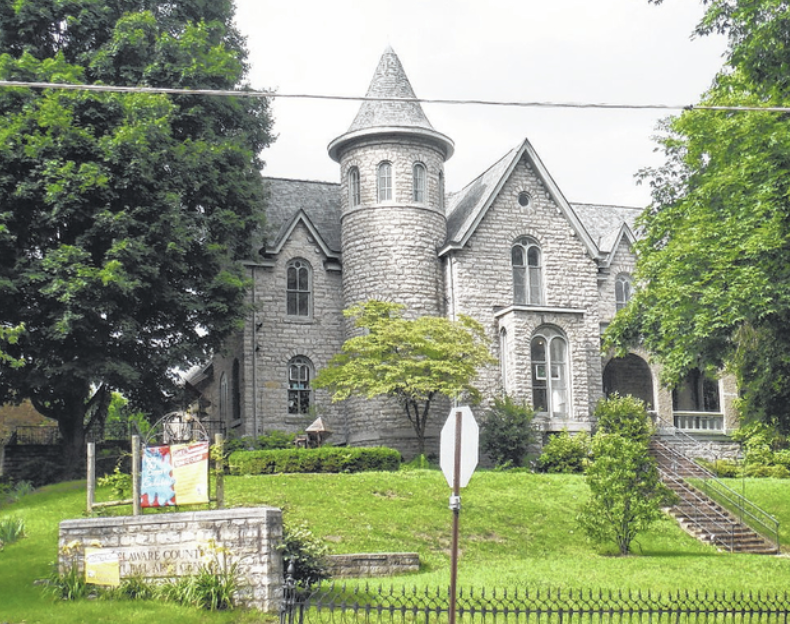 Portable toilet plays role in exhibit at Arts Castle event
By Allie Smith, Transcript Correspondent
The third graders' eyes widened when they discovered that the strange-looking pot in their instructor's hands was once used in the 19th century as one thing and one thing only – a portable toilet.
The Arts Castle is hosting an exhibit on art and fashion in early Delaware County until April 28. The Castle is located on 190 W. Winter St. in Delaware. Life and culture of the 19th and 20th centuries can also be explored, including the portable toilet on display.
Art and photographs derived mostly from the 1800s coat the walls of the Arts Castle. The right corridor opens into a room containing a stunning lace wedding dress and a stately black suit from 1946, originating from Delaware, OH.
The parlor next door holds a variety of items ranging from women's and children's apparel to a uniquely designed hair wreath, woven to fashion the history of the family of the wearer. The parlor also contains an arrangement of toys and eating utensils, books and old wooden chairs, all from the late Victorian Period.
Diane Hodges, executive director of the Arts Castle, has worked at the Castle for ve and a half years. She commented on her favorite piece from the current exhibit.
"My favorite piece is the one in which hair is woven into a wreath and displayed in a shadow box. The hair was gathered by women as they brushed their hair and placed in a dish on their vanity," Hodges said. "When enough was gathered, it was nely woven into a design and dis- played."
Numerous organizations made this event possible by donating or loaning many of the items on display, according to the Arts Castle of cial website. For example, The Delaware County Historical Society (DCHS) donated over 80 items to the exhibit in the hopes of giving third grade students an up-close look at Delaware County art and fashion, according to the DCHS website.
Past exhibits have demonstrated how the Arts Castle offers a diverse array of exhibits to visit.
"We recently had an exhibit, 'When Ohio Was Young: New Art and Old Artifacts,' which included artwork de- picting early Native Americans and artifacts that were loaned from the Olentangy Caverns," Hodges said. "For another exhibit, The Castle partnered with the Columbus Zoo in an exhibit entitled 'Zoo View: Art & Artifacts,' which featured art from the collections of zoo volunteers, staff and directors focusing on Africa and the Arctic."
There are several more events in store for museum-goers this summer. The Arts Castle's calendar as featured on their website indicates that the museum will feature the Delaware Artist Guild from May 7-June 23, an exhibit yet to be determined from July 5-August 4, and the Equine Jubilee from August 14-October 14.
The Arts Castle is open 9 a.m. to 5 p.m. Monday through Friday. For more information, contact artscastle@ artscastle.org