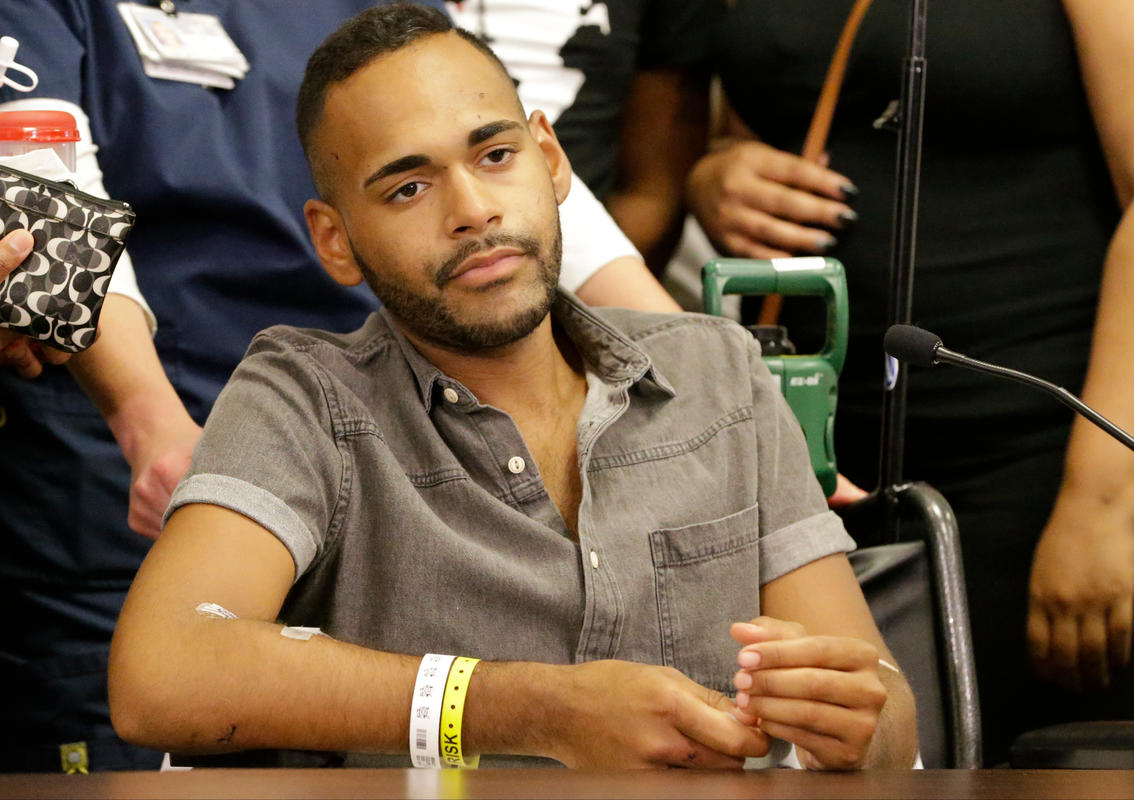 Pulse survivor speaks at SOL Conference
By Allie Smith, Transcript Correspondent
Love, hope and positivity form the structure of a word that impacts the lives of many. That word is forgiveness.
Angel Colon, a survivor of the Pulse nightclub mass shooting in Orlando last June spoke to Ohio Wesleyan students April 22 in Merrick Hall as a part of the Summit of Ohio Latinx Conference (SOL). His talk highlighted the three values of forgiveness.
Colon's presentation, "The Pulse that Never Stops Beating," explained what his life was like during and after the massacre. He said he hoped to spread a message of diversity, acceptance of differences and forgiveness.
June 11 began as a normal day for Colon. After getting off work early, he decided to go to the Pulse nightclub with a few friends.
Colon and many others did not realize they would be the center of international attention in the early morning of June 12 after clubbing at a bar designed for members of the LGBTQ+ community.
At 2 a.m., Colon and his friends heard the first gunshots. The shooter shot Colon three times in the leg after taking fewer than two steps toward the exit. He shattered his femur as a result of being trampled.
The shooter intended to make sure everyone in the club was dead, according to Colon. The shooter re-entered the club after leaving for a short time and shot Colon again along with the other victims sprawled on the floor next to him.
Despite his near-death experience because of a person's hate, Colon talked of his accomplishments and goals he has made since the early morning of June 12.
Colon continues to contact survivors and speaks to the officer who saved his life every day. He also spoke of the amount of love and support he receives as a result of the incident.
Colon explained how he copes with his permanent injuries and also discussed his aim to spread forgiveness.
"I don't like being a depressed person," Colon said. "I needed to move forward and use my second chance at this life as a way to spread a message."
His presentation was a means of motivation and inspiration to take on the prejudices faced daily by marginalized communities.
In the words of Colon, you can never forget, but you can forgive.
The second SOL Conference is what brought Colon to OWU.
SOL originated at Denison University in the spring of 2016 when Latinx students, staff and faculty began to raise questions about the growing Latinx student population at predominantly white colleges and universities in the Midwest, according to the SOL website.
Topics that SOL discusses include how to support the Latinx population, how to help this population gain resources and how to bring awareness to issues that they face on and off campus and other issues, said senior Michael Mora-Brenes, a volunteer at this year's conference.
This year's SOL Conference took place April 21-22.
OWU hosted SOL 2017 in an effort to broaden and build Latinx awareness in other college campuses across Ohio, said Mora-Brenes. He said he hopes OWU can continue it every year.
"Angel represents the ideals of SOL through his love and compassion," Mora-Brenes said. "Every story has an end, but in life, every end has a new beginning. I think Angel is a good source to get that message across."