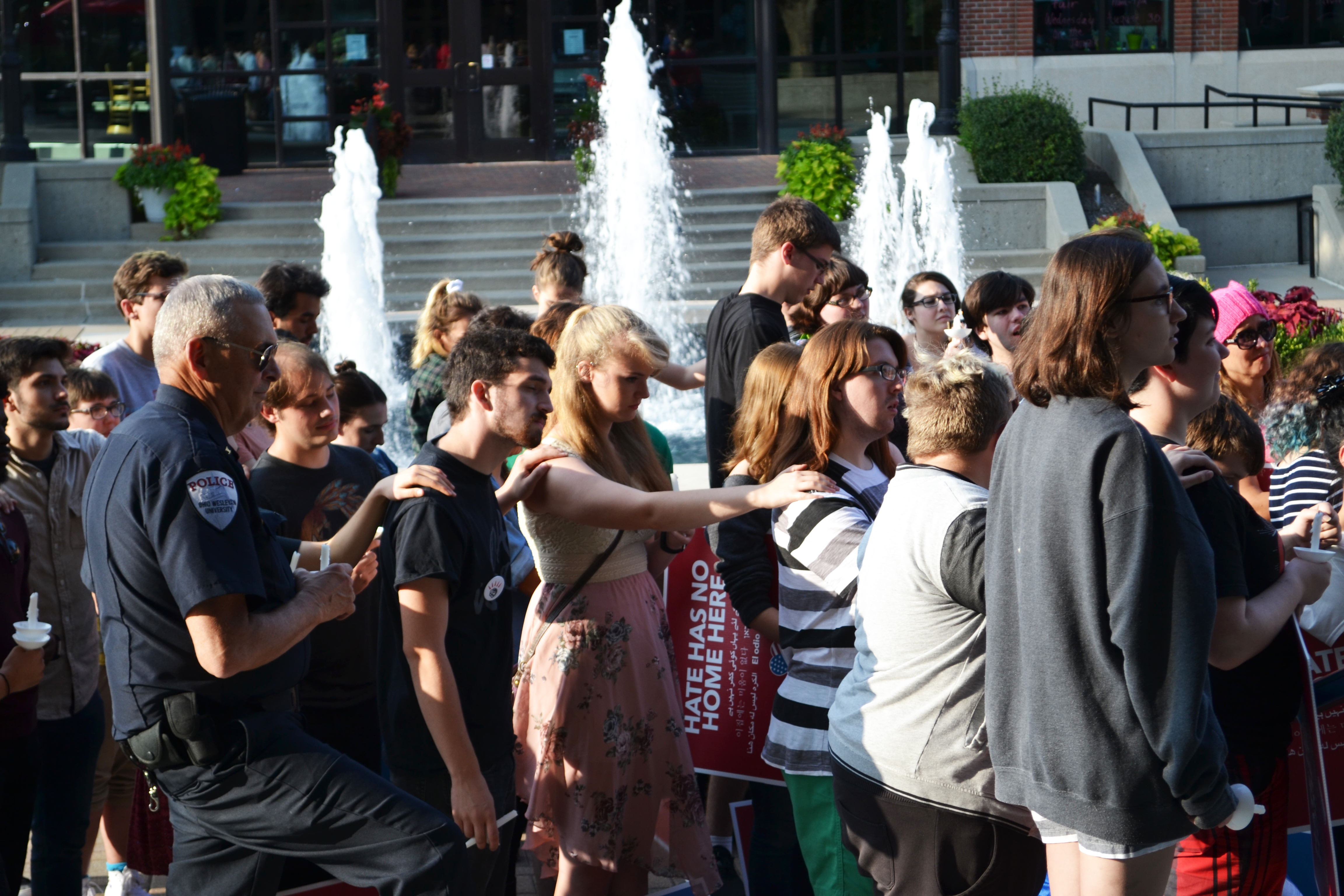 Students host rally in response to Charlottesville attacks
By Gopika Nair, Editor-in-Chief 
Ohio Wesleyan students, faculty and staff shared messages of solidarity, love and hope at a rally staged in support of victims of the Charlottesville attacks.
Junior Emily Shpiece and senior Ryan Bishop helped organize the event at OWU, which was held Aug. 25 outside Beeghly Library.
On Aug. 12, Jason Kessler led the "Unite the Right" rally to protest against the removal of a statue of Confederate general Robert E. Lee in Charlottesville. The rally, which has been regarded as one of the largest white supremacist events in recent U.S. history, turned violent when a speeding car crashed into anti-racist protestors, killing 32-year-old Heather Heyer and injuring at least 19 others, according to Al Jazeera.
"Even though the events of Charlottesville weren't fresh and recent when we organized the rally, the effects of Charlottesville-sentiments, white supremacy and anti-semitism are," Shpiece said.
Bishop added, "It's really important to recognize this on campus and to address this instance of domestic terrorism, this instance where hateful groups, [such as] white supremacists, neo-Nazis, Ku Klux Klan supporters, kind of were allowed to march and be violent and be armed and ultimately someone died resisting that."
The rally Shpiece and Bishop organized gave allies and marginalized students a chance to share their thoughts on the pro-white demonstrations in Charlottesville.
Giving Jewish students and students of color a space to speak validated what they had to say, Shpiece said.
In addition to students, Chaplain Jon Powers, Dean of Students Dwayne Todd and President Rock Jones gave speeches.
"I was especially moved by the personal narratives and powerful calls to action shared by many of our students," Jones said. "While there is much in our larger society today that causes great concern, I left Friday's gathering with hope and with confidence that our community will remain strong and will work together to create a better future for all people."
Todd said, "The rally was a moving demonstration of the commitment of these students, faculty and staff to confront bigotry and white supremacy, and to stand alongside those who are attacked or marginalized by such attitudes and actions."
Gatherers held signs which decried white supremacy and racist attitudes. Some handmade signs read, "No Nazis," "If you're not outraged, you're not paying attention" and "Bigotry will not be tolerated."
Bishop also reached out to Sally Leber, director of service learning, who provided printed signs sporting the words, "Hate has no home here," in four different languages, including Arabic and Spanish.
A day before the event, Bishop and Shpiece met with Lisa Ho, associate chaplain; Bob Wood, director of Public Safety; Todd, the dean of students and Kristin Weyman, associate dean for student success. This group suggested signing postcards to send to children in Charlottesville, Shpiece said.
The Chaplain's Office also provided candles during the event, which concluded with Chaplain Powers leading a prayer.
"I loved what everyone had to say, and while I'm disappointed there wasn't more of a turn out, I think that the people who showed up learned a lot about one another, felt supported and found a means of channeling their heightened emotions about Charlottesville into community action," Shpiece said.