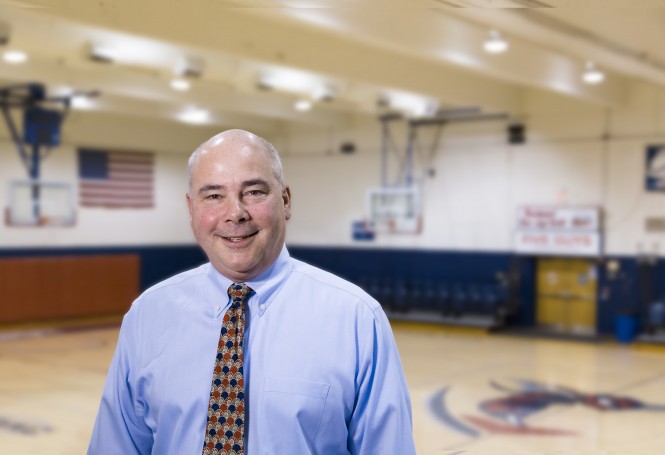 By Aleksei Pavloff, Sports Editor 
It's the start of a new semester and the Ohio Wesleyan athletics department appointed Doug Zipp as the new athletics director in August.
"He is absolutely the right person to serve as OWU's director of athletics at this time," President Rock Jones said. "I look forward to working closely with him."
Last semester, OWU's athletics department said goodbye to Roger Ingles who served as the previous athletics director. Since then, the school tried to find a suitable replacement. For a while, Mike DeWitt was the interim athletics director while also being the head coach for the men's basketball team.
Zipp was appointed to the position Aug. 15.
"The great work of … [DeWitt] in the transition has been ideal," said Zipp. "The work he and the staff were able to accomplish over the summer was incredible and how they quickly were able to get me up to speed was a huge help. I cannot thank them enough for all of their good work."
Jones said, "Doug has hit the ground running and is quickly engaging in every aspect of oversight of the athletic program at Ohio Wesleyan." He also said Zipp has been learning a lot for being here a short while and that he has made time to get to know the coaches and staff.
Before coming to OWU, Zipp was the director of athletics of Shenandoah University in Winchester, Virginia for five years.
But this is not the first time Zipp has been a part of the NCAC. Prior to his time at Shenandoah, Zipp worked various jobs at Kenyon College, from dean of Residential Life, special assistant to the president, project manager for the Kenyon Athletic Center to interim athletics director.
Zipp became aware of the opening for athletics director at OWU after his colleagues and friends told him about it.
"They encouraged me to take a serious look at the position and to consider applying," Zipp said. Jones said the process of finding a new athletics director was primarily about finding someone who valued athletic and academic excellence.
"There was tremendous interest in this position, reflected in the fact that all four finalists who visited campus have experience as Division III athletics directors," Jones said. "OWU's athletics program is highly regarded, as is the [NCAC]."
Zipp already has high standards for OWU and its athletics program. He said he wants to instill a winning attitude in every team and build relationships with alumni and the Delaware community.
"It is our goal to provide each student the opportunity to compete for a NCAC championship at least once every four years," Zipp said.
Before Zipp joined OWU, the athletics department added women's rowing and men's wrestling. Zipp ensured that the process for finding coaches and new staff is underway.
"We have search committees for each position and we are now on the fast track to find the best candidates [who] will buy into and support our academic and athletic mission and be able to build solid programs in wrestling and women's rowing," said Zipp. "We will be engaging in the interview process in the next two weeks with the goal of having coaches named and starting by early October."
The Battling Bishops welcome Zipp and plan on improving the athletics department and its teams in the future.