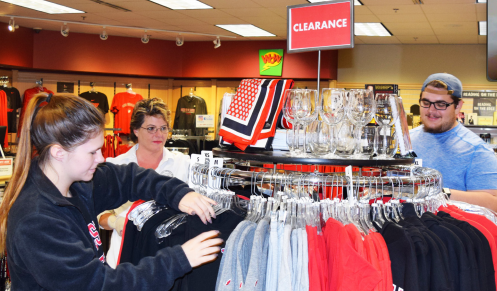 Campus bookstore transitions to self-operated store
By Gopika Nair, Editor-in-Chief 
Students could forgo the hunt for affordable textbooks on Amazon with Ohio Wesleyan's upcoming bookstore transition.
Starting Oct. 2, the OWU bookstore will no longer be Follett-operated and will instead reopen as a self-operated store. Lauri Strimkovsky, vice president for finance and administration, recommended that OWU would be better served by returning to a self-operated model, according to President Rock Jones.
Strimkovsky's suggestion came after consultation with other campuses that returned to functioning as independent bookstores, and discussions with the faculty's Committee on Teaching, Learning and Cross-Cultural Programs.
"I am pleased with this recommendation and the potential benefits going forward," Jones said. "These benefits include adjusting the pricing strategy for textbooks to be competitive with online vendors, making OWU more competitive for textbook business; enhancing OWU's online presence for textbooks, OWU apparel and other products; and expanding the mission from a bookstore to one of a more comprehensive OWU store."
Follett Corporation, a third-party company, works with more than 1,200 campuses across the country, said Lisa Tackett, OWU's bookstore manager.
Follett leases space from campuses and runs the store, providing course materials, supplies and branded items such as apparel. The campus bookstore's partnership with Follett began seven years ago, prior to which the bookstore operated independently.
"This industry is constantly changing, so what was relevant then may not be relevant anymore," Tackett said. "We're changing with the times and more campuses are going independent now, [opting to] leave Follett and Barnes & Noble, which are the two major in-campus stores."
In addition to working on providing students with the most affordable options for course materials, Tackett said the bookstore will have the freedom to "get items that are a lot less cookie-cutter and styles that are more desirable for our students in terms of clothing."
Tackett has placed orders for custom items such as yoga pants and joggers instead of basic sweatpants.
"Our prices are going to be better and our markup will be smaller," Tackett said. "I'm not limited anymore on where I can order our materials, so I'll be able to purchase the things everyone has been asking for."
In an email to employees and students sent on Aug. 31, Melanie Kalb, director of purchasing, said the campus store will also host a website with online ordering and online book adoptions for faculty.
"We believe the OWU culture and identity can be best represented by our new model," Kalb said in her email.
Follett's operations with the campus bookstore will conclude Sept. 28. In preparation of the transition, several apparel items will be sold at a discounted rate of 50 percent off starting Monday, Sept. 18.