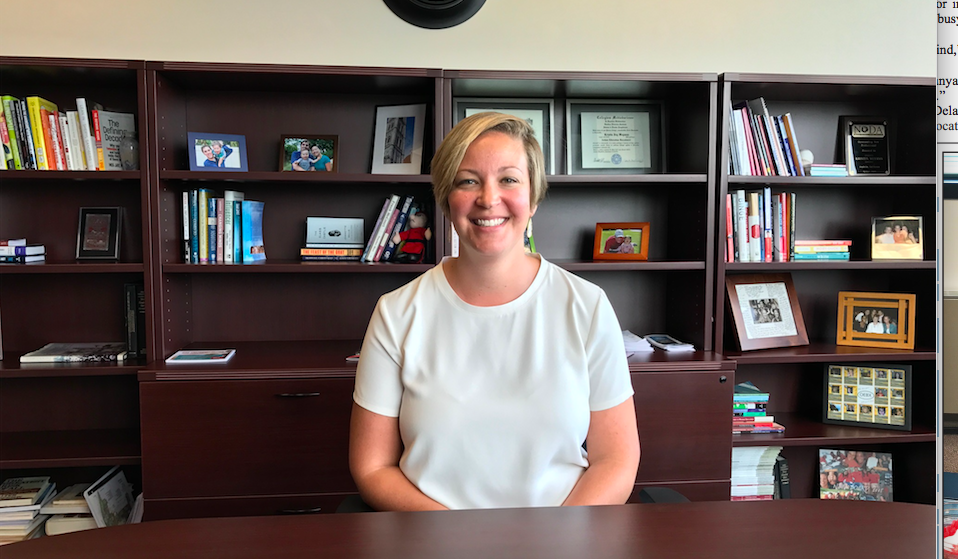 Meet the associate dean for student success
By Alameina White, Transcript Reporter 
After conducting a nationwide search, Ohio Wesleyan chose Kristin Weyman to be the new associate dean for student success.
Before coming to Ohio Wesleyan, Weyman was the associate dean of students at Claremont McKenna College in California. Claremont is a small liberal arts college with a similar atmosphere to OWU; one of the reasons Weyman wanted to come.
Another reason why Weyman wanted to come to OWU was because of the students' involvement with the community.
"Students who don't want to just be a part of a community but want to help create the community," Weyman said. "The students who want to expand their horizons and have a genuine interest in learning."
As the associate dean for student success, Weyman oversees Residential Life, Health and Counseling Services, Multicultural Student Affairs (MCSA) and Student Conduct.
Weyman was hired to oversee ResLife while OWU looks for a new director. Weyman is also acting as director of MCSA until they find someone to replace the former.
"My whole role is connecting students to the resources they need," Weyman said. "I hope students will think, 'I don't know where else to go, so I'll go to Kristin.'"
Dwayne Todd, dean of students and vice president for student engagement and success, said he chose Weyman because of her experience and dedication.
"I decided to go with her because this has been her line of work for a long time," Todd said. "We needed someone who was ready to jump in with both feet."
Weyman was raised in St. Louis, Missouri, but since she first left, she has been all over the U.S. But no matter where she worked and lived, she always came back home.
"I always seemed to come back to the Midwest," Weyman said. "It feels more like where I grew up."
Weyman said she has had a great start at OWU so far. Right now, she is getting know everyone on campus and trying to make students aware of all the resources they have on campus.
"I want to eventually get to where everyone knows where they can turn to me on campus," Weyman said. While there are students who are still unaware of Weyman's role on campus, she is still working one person at a time with hopes that word will spread.