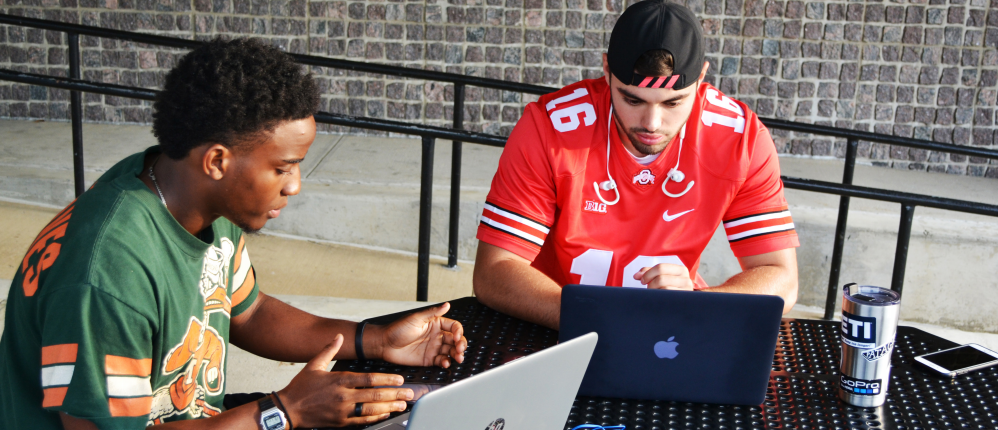 By Aleksei Pavloff, Sports Editor 
Two Ohio Wesleyan students have taken what they have learned in class and turned it into their own business and passion while still keeping up with school work.
Junior Ben Mudzinganyama and sophomore Connor King have created their own company called Xnox Fitness.
The company focuses on personal training, dieting and sports performance.
King is a finance major with a minor in exercise science and is currently trying to get certified to train clients. Mudzinganyama is certified by the National Academy of Sports Medicine and works directly with clients on a daily basis. He is also majoring in exercise science and minoring in business administration.
It didn't take long for both students to relate to one another.
"We met last semester and just talked about what we wanted to do one day in the future," King said. "Then we just started talking about ideas and what we were passionate about."
Both students played sports here at OWU. But they found the stress of playing a sport while going to class wasn't as rewarding as creating something that would "last a lifetime," according to Mudzinganyama.
King and Mudzinganyama met last semester and talked about what interested them. Mudzinganyama said he originally wanted to be a physical therapist but eventually decided that wasn't his passion. He also added that the injuries were taking a toll on his physical capability.
"To be in this business, you have to have an able body," Mudzinganyama said.
Both students said they have been interested in health and fitness for some time now. It wasn't until the summer they thought that it would be a good idea to work together.
"We both have the same passions and bring different ideas and experiences to the table," King said.
With sports no longer being a factor in their daily lives, they still have a very busy schedule to keep up with.
"Running your own business is a grind," King said. "It's not for everybody," Mudzinganyama said. "You have to put in odd hours."
Xnox Fitness is working out of the Delaware Fit Factory, a crossfit gym that is located on South Sandusky Street. They are currently working with the owner Eric Sutliff and Mudzinganyama said their partnership has been "fantastic."
The company is looking to expand its brand with an informational video on their Facebook page that currently has more than 1,500 views. They have also been in contact with local high schools in the Delaware area.
"We want to dominate the sports industry and the fitness world," Mudzinganyama said.
Some other students on campus have noticed how dedicated they are in their business. "I think that it's awesome that they are doing this," said junior Lauren Carpenter. "[Mudzinganyama] is an insightful guy and loves to work with people."