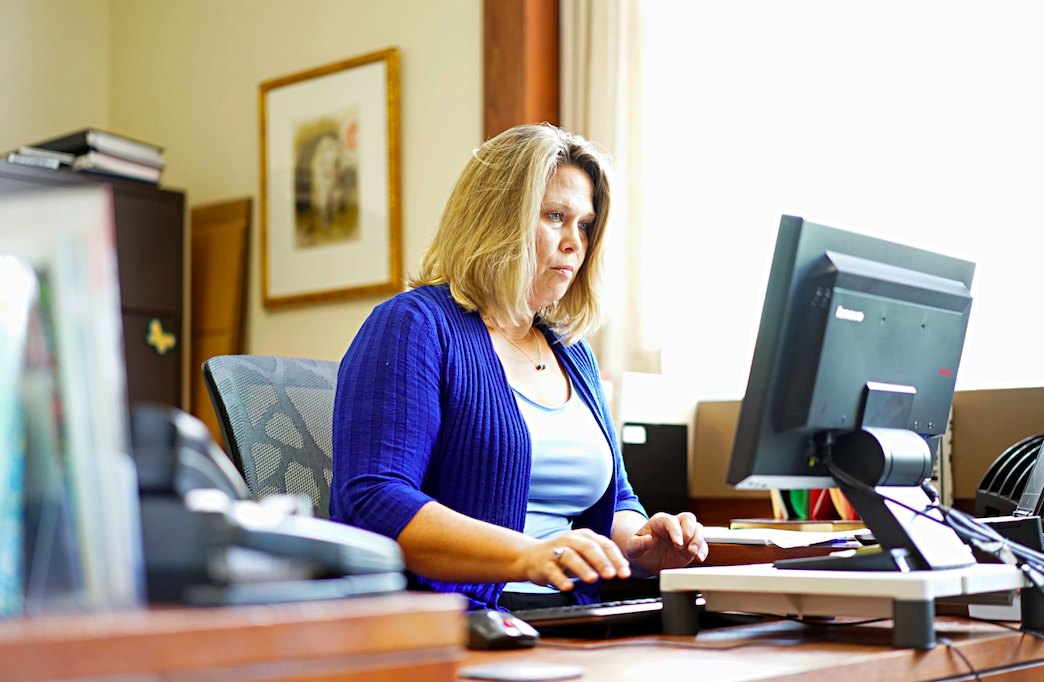 Executive assistant to president ready to help students succeed
By Reilly Wright, Photo Editor 
Janet Lewis was recently given the title of executive assistant to the president and secretary to the Board of Trustees at Ohio Wesleyan University, but she said she prefers the title Janet.
The position was granted to Lewis after a full search process led by an OWU committee reviewed dozens of applicants.
"I was very impressed with her from the opening minutes of my first meeting with her," said President Rock Jones. "Her experience, professionalism, personality and deep commitment to higher education and to the welfare of the entire campus community will serve all of us very well."
In recent years, Lewis was an administrative associate to the executive director and development team and the Central Ohio American Heart Association. She supported their board of directors and programs such as Go Red for Women Luncheon and the Central Ohio Heart Walk.
When Lewis spotted the job listing, she initially hesitated due to her passion for her job with the Central Ohio American Heart Association. But after weeks of curiously visiting the listing, she applied for the opportunity to work directly with Jones.
"[Jones] is not only an engaging and eloquent speaker, but is also clearly a committed and passionate advocate and leader for OWU," Lewis said. "I love that he is so accessible to the students and enjoys interacting with them."
She holds a bachelor of science in chemistry from the University of Tennessee at Chattanooga and has a master of business administration with a marketing emphasis from the University of Southern Mississippi.
Lewis grew up in Tennessee where most of her family lives, but she has called Ohio home for the last 12 years. Both her sons go to school in Ohio while she and her husband of 26 years are active in Columbus' recreational volleyball leagues.
"As she gets to know the OWU community and the OWU community gets to know her, I am confident Janet will become highly regarded for her work, for the warmth of her personality and for her commitment to our mission as a residential liberal arts university," Jones said.