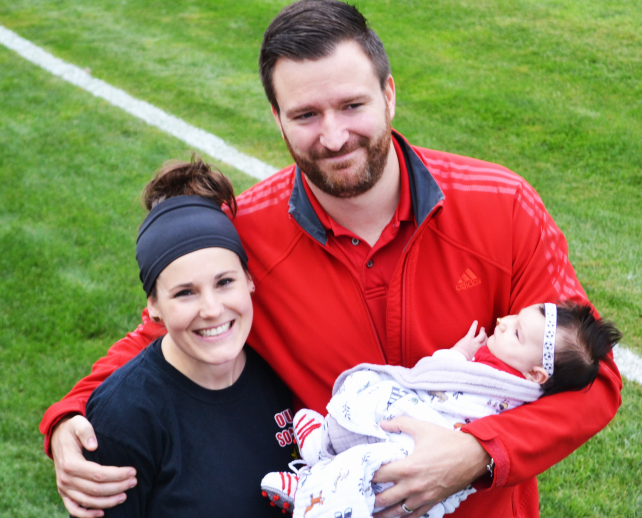 Women's soccer team honors Baby Lou
By Jesse Sailer, Transcript Reporter 
The Ohio Wesleyan woman's soccer team kicked off their 2017-18 season on Friday, Sept. 1 against Earlham in honor of OWU alumni Megan ('09) and Dan ('08) Dyer, and their newborn daughter Lou.
All proceeds from Friday's game went toward the Dot's Tot's Foundation to help Baby Lou combat the effects of cerebral palsy that were caused by complications during her delivery.
Dot's Tot's Foundation is a nonprofit charity that was founded in 2012 that aid families who foster, have teenagers pursuing a higher education, or have children with disabling diseases/illnesses or injuries.
All eyes were on Baby Lou as Megan and Dan acted as honorary captains for the coin toss at the start of the game, before making their way off the field and into the arms of family and friends.
President Rock Jones said the alumni who came together for Friday night's game "are still connected and caring for one another and supporting one another in good times and bad," and "that there's a really powerful sense of family."
Honoring families, individuals and advocating just causes is nothing new to OWU athletics. Concerted efforts have been made to involve the OWU student body in events, such as these, that extend beyond the field.
Jones said it would be wonderful if more OWU games would be organized to benefit foundations and struggling families.
"I credit the people who had the idea to do this and made it happen," Jones said. The Battling Bishops rallied to beat Earlham 1-0, with a goal by freshman forward Emily Sheridan.
"We are playing for a very special family," said junior Megan Price, who plays forward for the woman's soccer team. "They've brought such a miracle into this world."
It's one thing to start your season off with a win on home turf, but to play for a family like the Dyers, it makes the win that much sweeter.