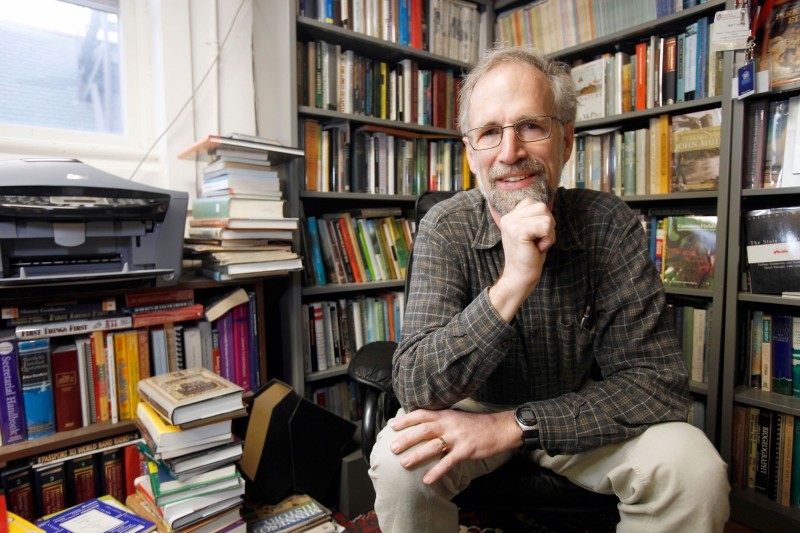 William Cronon receives honorary degree for work with liberal education
By Madeleine Matos, Transcript Reporter 
Ohio Wesleyan University honored William J. Cronon with an honorary degree for his work with liberal education that lead to the creation of OWU Connection.
The ceremony took place in Gray Chapel on Sept. 14, with President Rock Jones; Ellen Arnold, associate professor of history; Zackariah Long, associate professor of English, among those honoring Cronon.
Much of the freshman class was in attendance as well, as part of an assignment for the freshman course UC 160: The OWU experience.
UC 160 was designed to teach freshmen about the university, and what it means to receive a liberal education. The inspiration behind this course is attributed to Cronon, aided by his essay Only Connect: The Goals of a Liberal Education.
"The idea to honor Professor Cronon with this degree came when we decided that UC 160 would be a universal part of the curriculum," Arnold said. "Honorary degrees reflect OWU's mission and values. Since Cronon's essay 'Only Connect: The Goals of a Liberal Education' is now sent out to all first-year students as a piece that reflects those values, it seemed a perfect match."
The speech given by Cronon after the ceremony discussed many ideals that not only are valued by Cronon, but by students here on campus as well.
Cronon discussed how his life choices led him to have degrees in many fields, and that many of these fields came to him by accident. The idea of finding your passion using the liberal arts resonated with students. Cronon also talked about putting work into whatever field you pursue, and that it is not always easy.
"Not everything in life is going to be handed to you, you need to work hard and things will eventually take their place," freshman Madison Drabick said.
Cronon discussed traveling across the world for his studies, something that many students on campus have expressed interest in, leading to the creation of the OWU Connection program.
The program allows students to connect what is being learned in the classroom to real life situations, which can include international studies.
"I hope to be part of the OWU Connection," freshman Claire Yetzer said. "It would be a great experience to be able to study abroad or take a travel-learning trip."
The final message Cronon left for attendees is one that is common among students on campus: the idea of exploring whatever you can through the liberal arts, and being able to connect on campus with other students.
"That's really the core of lifelong learning, and something I aspire to," Arnold said.