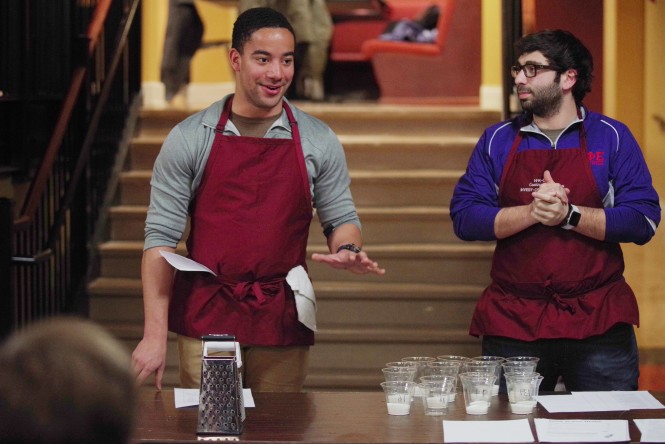 Cooking Matters cooks up a recipe for success
By Hallie Sinko, Transcript Correspondent 
There are more than 16,000 residents in Delaware County who are food insecure.
Ohio Wesleyan has united with Cooking Matters to facilitate health-related programming for those in the community lacking reliable access to a sufficient quantity of affordable, nutritious food.
Cooking Matters is a national program that addresses "one of the biggest health-related challenges in the U.S. today—that of food insecurity and the related chronic disease burden for those with lower economic resources," Chris Fink, health and human kinetics professor and program director, said.
Students in the HHK department have the opportunity to transition classroom content to real world experience. As coordinators, they promote the program and recruit participants. As instructors, they work to address personal barriers that prevent the participants from changing health behaviors.
In sync with OWU's mission, this program is an opportunity for students to impart knowledge and gain the expertise to operate a successful program, Fink said.
The six-week program gathers at Vineyard Church, across from Grady Hospital, on Tuesday evenings.
For two hours, the class explores health topics, recipes, meal preparation, budget and planning strategies.
Group discussions address topics such as the importance of breakfast and physical activity. Instructors also engage participants through activities that address health topics.
"To allow the class to recognize the quantity of sugar in some of their daily beverages, clear cups are filled with one teaspoon of sugar per four grams of sugar in the drink. Participants then try to match up the sugar cups with the correct beverage," senior Sarah Kohn said.
Each week, recipes are introduced that are created with inexpensive, healthy ingredients.
Next week, the class will be making tacos with lean turkey meat and lettuce wraps. Both inexpensive, lean turkey meat provides a low-fat option and lettuce wraps a low-carb option.
Instructors lead the class through the meal preparation. Along the way, they  educate on kitchen safety. The class has made vegetable soup, stir-fry and stovetop mac and cheese.
Participants are educated on how to get the most for their dollar through the power of planning. They are advised to make a list before heading to the store, which allows for effective shopping on a budget.
At the end of each class, participants get to take home groceries. Allowing them to try new things at home for their family, even on a tight budget.
The community has responded positively to OWU's Cooking Matters program. The high interest prompted a waitlist to be created. Community partners have informed Fink that they are impressed with the work being done. In particular, the pop-up programs at local Farmers' Markets, food pantries and free meal sites.
In an effort to reach the younger population, there is a new addition coming in spring 2018. The OWU students involved with Cooking Matters will be leading a series of classes for a local school, Woodward Elementary, to educate children on health and nutrition topics.
Not only are OWU students giving through this opportunity but they are also receiving. Both Kohn and senior Patrick Puracchio said they value gaining experience with diverse populations, which they know will help them in their future careers.