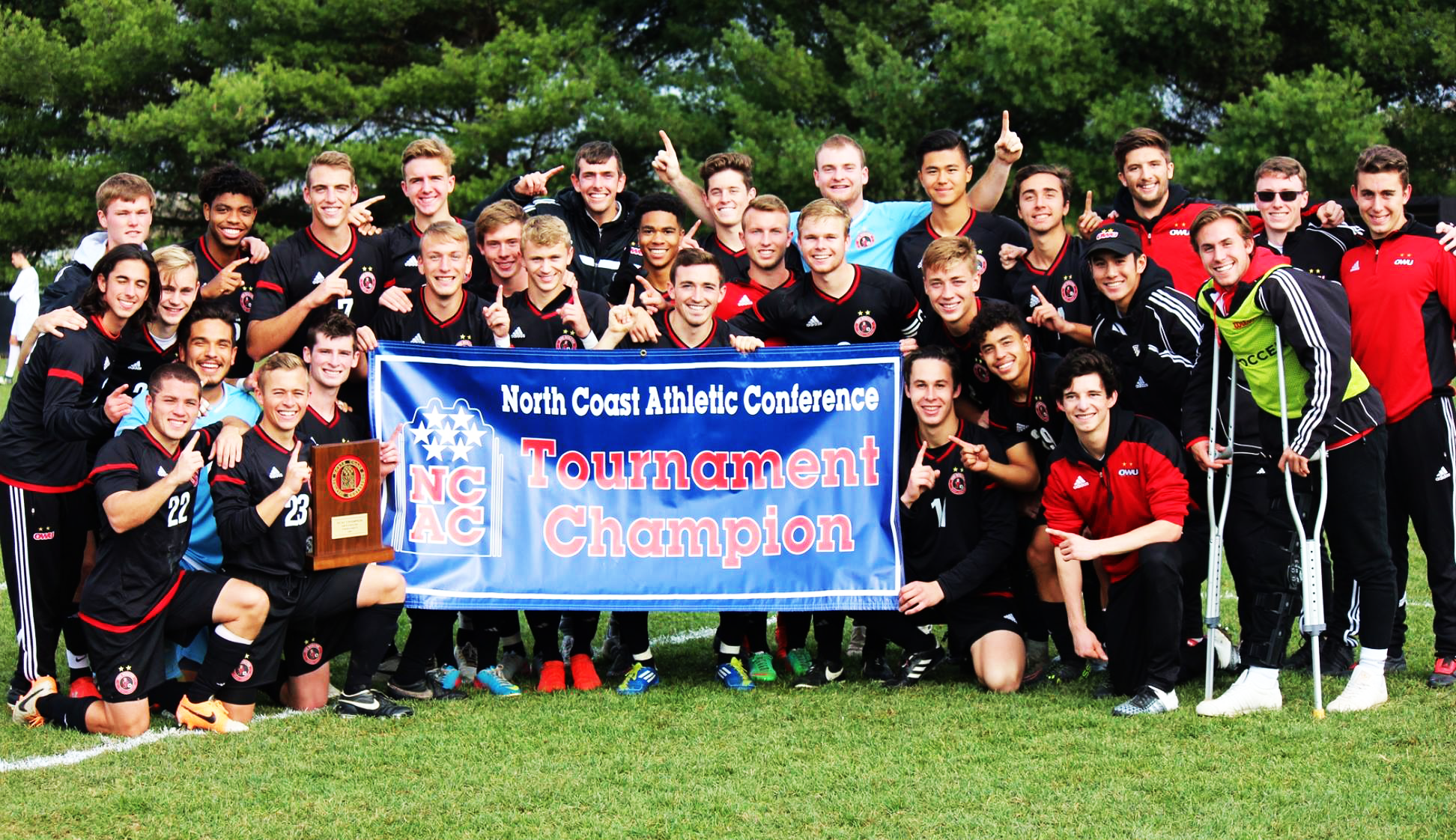 Men's soccer team wins NCAC title in dramatic fashion
By Kienan O'Doherty, A&E Editor 
After one of the most exciting games in recent North Coast Athletic Conference (NCAC) memory, the Ohio Wesleyan men's soccer team captured its 10th championship.
In a classic rivalry matchup between the second-seeded Battling Bishops and the top-seed Kenyon College Lords, the teams battled to a 0-0 draw after extra time, meaning the tournament would be decided by penalties.
After sophomore goalkeeper Mike Heeschen kept the Lords at bay throughout both regulation and extra time, notching five saves in 110 minutes, head coach Jay Martin leaned on sophomore J.P. Baughman to go in goal for the shootout.
"We planned on doing that since the very beginning," Martin said. "Since high school, [Baughman] has been a very good penalty stopper."
Baughman lived up to his reputation, saving three shots to keep the Bishops alive, and all the while setting up junior midfielder Jack Shadoan for the winning penalty. Shadoan converted, and the Lords missed their next penalty wide, earning the Bishops the tournament title. The win also gave the Battling Bishops an automatic birth into the NCAA tournament.
Baughman received the Most Valuable Player award in the tournament for his efforts. Four Bishops were named to the All-NCAC tournament team: Shadoan, Heeschen, Baughman and senior back and captain Trey Olsen.
It finally seems the Bishops are hitting their stride at the perfect time, and junior midfielder and captain Will Sharer believes that complacency is key:
"We need to keep working hard in practice and doing the little things that will make a difference in the games," Sharer said. "I think if we can keep our hard working and defense first mindset then we can make a run in the [NCAA] tournament."
The Bishops traveled to University Heights, Ohio for their first round matchup against John Carroll University, who beat the Bishops 5-4 in double overtime earlier in the season. Senior midfielder David Robinett said hethinks the team learned a lot the last game, and can't wait to play them again.
"We learned that we need to play hard for the full 90 minutes, so that's what you should expect this time," Robinett said. "We know that we're a talented team and we're excited to come back and get revenge."
Martin said he believes the Bishops can take on anybody in the tournament, including John Carroll.
"I'll tell you what, I don't think they want to play us," Martin said. I think they want to play some other team."
The first round matchup will take place on Friday, Nov. 10, at 5:30 p.m. at John Carroll, with the winner playing either Calvin College or Thomas More College on Saturday, Nov. 10 at 7 p.m.