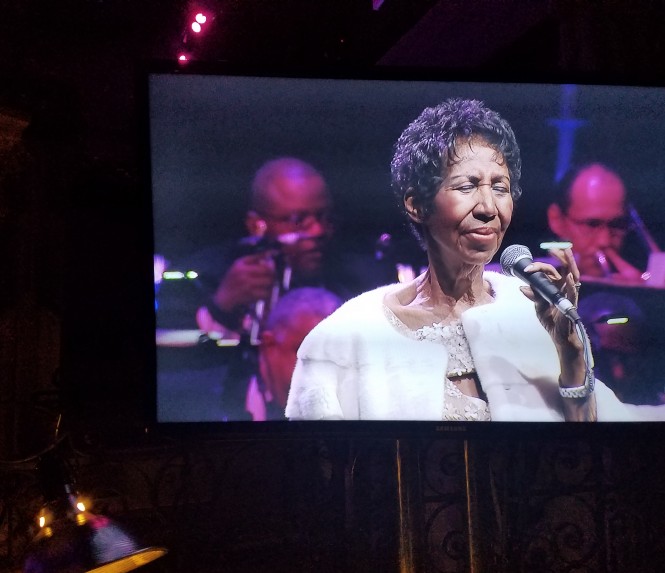 Music professor performs with "Queen of Soul"
By Kienan O'Doherty, A&E Editor 
When the opportunity to perform with a music legend comes along, it's difficult to pass up.
Such was the case with Ohio Wesleyan professor and trumpeter Larry Griffin, who had the opportunity to perform with singer Aretha Franklin at the Elton John AIDS Foundation's annual New York Fall Gala last month.
The gala came at an opportune time because Griffin had seen Aretha perform earlier in the fall.
"This year, in June, I had tickets to hear Aretha perform in Chicago, but she cancelled because she was ill," Griffin said, "So I was able to see her in September, as well as go backstage and do a little meet-and-greet, which was fantastic."
Franklin had also mentioned to Griffin that Chicago would be her last performance. But musician Elton John convinced her to come back and perform once more.
"Aretha said she would do one more, but she wanted it in a small setting, and wanted all the musicians that she wanted to have," Griffin said. "She wanted to handpick them."
Griffin's close friend, Marshall Seele, got the contract and called Griffin, asking if he wanted to do it, and with some persuading by his wife, packed his bags to New York.
"I was very happy to receive the call," Griffin said.
Griffin's track record reveals he has the skills to perform at an event of this magnitude. He has performed all over the world, featuring three European solo tours and two Chinese solo tours, as well as in 42 states and Australia.
What amazed Griffin the most was how many celebrities were in attendance.
"Sting was there, Bill Clinton was there as well and he spoke," Griffin said. "He's super laid-back. The room was just filled with celebrities that were in support of Aretha and the foundation."
The foundation held the gala at the Cathedral of St. John the Divine in New York City, and it raised more than $4.4 million to support HIV/AIDS prevention, treatment, supporting services, and advocacy programs across the United States, the Americas and the Caribbean.
Griffin said he would play for Franklin again in a heartbeat, and that she certainly has earned the respect of the music community.
"She did her thing, and she loves to perform. Everybody certainly knew the Queen was there," Griffin said. "But you have to respect her and what she has accomplished in her career, and how many people she has touched, she truly is the Queen of Soul."