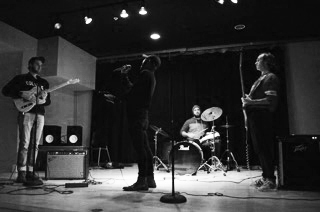 OWU's Got Talent celebrates young and diverse performers
By Maddie Matos, A&E Editor
Students across Ohio Wesleyan campus celebrated diversity and talent in the annual OWU's Got Talent show.
The show was on February 2 at the Mulligan Hub. OWU's Black Student Union created and hosted the event.
The performance was an hour long, with seven acts in total.
The acts included local band The Oaks and Acapella group The JAYwalkers. Solo performances by Brandon Solomon, Jaliyah Atkinson, Courtney Owens and Will Fairbanks.
Each act had a different tone, with some students performing acapella, some performing their own music and a majority performing well known songs.
The event allows OWU students to showcase their talents and gain exposure on or off campus. The performers also want to support the event itself.
"These people potentially would not have any outlet outside of this kind of event, so I hope that this event grows," performer Alex McPherson said.
The Black Student Union sponsored the event, being just one of the many events planned for February. The union received praise and respect for hosting the event.
"This is an event that most would expect CPB to put on, and the fact that they don't do it is incredibly surprising," McPherson said. "BSU taking the reins on this event and making it so successful is just another of many examples of how BSU represents Black Excellence."
The union is celebrating Black History month with different events, including cookouts and films that explore the role of African Americans throughout history. The talent show brought forth this history in some acts.
Four of the performers performed songs by African Americans or spoke about the life of African Americans. Owens spoken word performance received praise from the audience, and was declared the winner of the contest.
"Courtney's was my favorite act and this is because it was not only different but it was real," sophomore Jaliyah Atkinson said. "And it hit the heart."
With over thirty people in attendance, the audience was small but supportive, cheering on each act and providing positive feedback after the show to each performer. The proceeds from the show will fund the events this month.
"We need to show that we can be leaders and we have talent while also acknowledging that other races have talent and can join and have fun with us as one to celebrate all of our different talents," Atkinson said.
OWU's Got Talent allowed students of all races to enjoy performing and celebrating together.