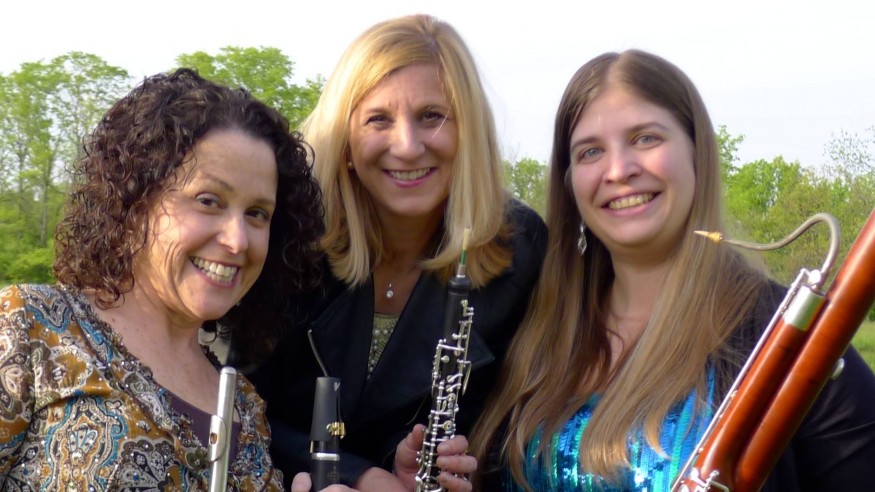 Faculty members showcase their love of performing at OWU recital
By Maddie Matos, A&E Editor
Ohio Wesleyan praises itself on having the best faculty possible, and celebrating the accolades that each of them accomplish. The Faculty Recital-Tour d'Anches Woodwind Trio on January 30 celebrated some of the music departments staff.
Professors Nancy Gamso, Karen Pfeifer and Emily Patronik all performed at the show, which lasted an hour.
The professors are in a trio, and have been performing for seven years. They have performed together in the past for the school.
Each professor plays a different instrument and memorize pieces involving all the instruments to play together. Each instrument presents its own challenges.
"We are a reed trio which means we each have a reed on our instrument.  I, as an oboist, make my own reeds and so does the bassoonist," Professor Karen Pfeifer said. "Dr. Gamso performs on both the flute and clarinet which means she has to switch instruments halfway through… The music is very difficult and tricky, and we try to bring all three of our parts into one ensemble idea."
The pieces chosen for the performance come from the Ohio Solo and Ensemble Contest list, with practices starting in early January.
The pieces chosen for the recital vary, with the professors hoping to add variety to each show.
"Some of these pieces are not in the standard repertoire, so we will be introducing people to some wonderful gems," Professor Emily Patronik said.
The professors hope to perform at high schools, to teach young students how the piece sounds in real time and teach the piece.
The recital was something fun for the trio to do and allowed them to present their lives outside the classroom.
"We love performing together," Pfeifer said. "Making music is so much fun."
The recital was open to OWU students and the Delaware community. The event was free to students and had refreshments afterwards. The professors felt that the show went well.
"The performance was a lot of fun," Pfeifer said. "It went well."
The audience was receptive of the show as well, despite the small audience. Hopes for more students in attendance were shared by the professors and fellow audience goers.
The show gave the musicians and audience a chance to experience a different musical style and attitude. The pieces were more casual and upbeat compared to traditional woodwind trio pieces.
The performers felt success after their show, and were glad to share that with the OWU audience.