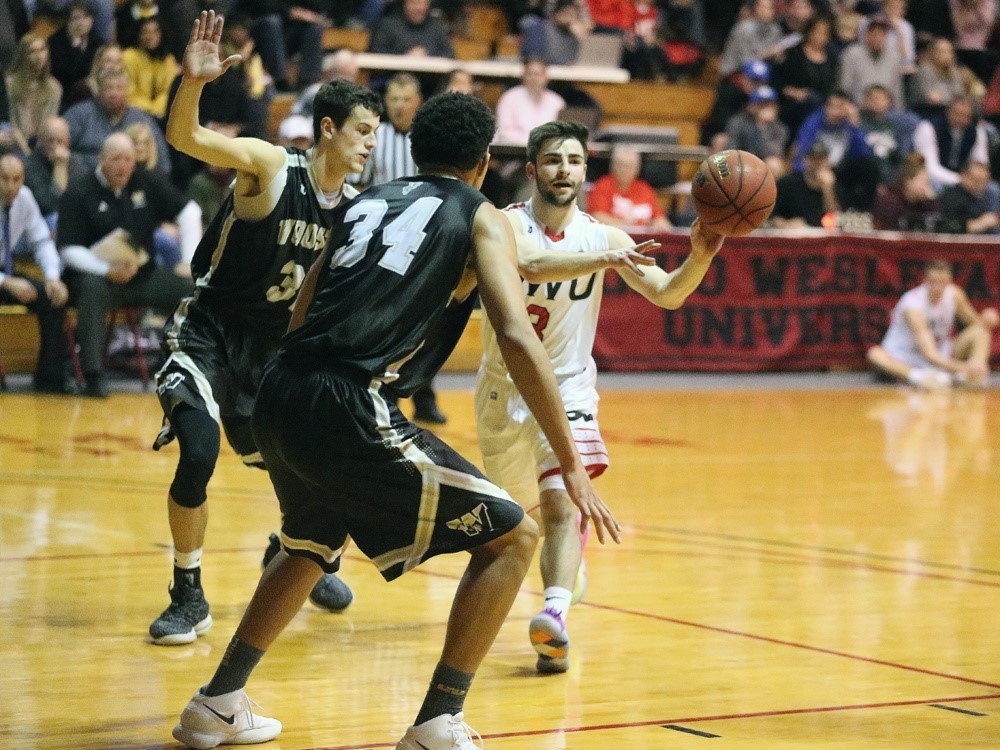 By Kienan O'Doherty, Editor-In-Chief
The Ohio Wesleyan men's basketball team is back on track after a victory over Kenyon College last Saturday at Branch Rickey Arena.
The game started tight, with only one instance where a team lead by more than 4 points during the first 10 minutes of play, Sophomore guard Jared Gerber broke that stretch, connecting on one of his five 3-pointers, giving the Battling Bishops a seven-point lead around the halfway mark of the first half.
The Lords clawed back and cut the lead down to three before senior guard Seth Clark sank in a 3-pointer, followed by a pair of free throws by senior post Adam O'Brien. Clark would also connect on free throws and scored a lay-in, and senior guard Nate Axelrod layed one in to extend the margin to eleven.
The Bishops was as many as 15, but the Lords wouldn't go away. A Ben Stern 3-pointer cut the lead to 46-37 late in the first half, but the Bishops again countered on 3-pointers by senior guard Will Orr and Clark, stretching the lead to 58-39.
The lead would remain no less than 17 points throughout the rest of the contest, with the final score 108-82. Axelrod led all scorers with 28 points while collecting 9 assists, tying the school record for most assists with 616. Clark finished with 15 points and 7 rebounds.
Senior guard Law Jones saw a lot of positives the Bishops could expand on during the victory.
"Our energy and effort showed a lot of improvement, [and] we are realizing that we are going to have to play a lot harder to reach our common goals," Jones said.
Orr believes that there is still a lot of work to be done based on team expectations.
"Our expectations for the rest of the season is to take care of our own business, don't worry about anyone else and just focus on ourselves," Orr said. "We are still in decent enough shape to accomplish our preseason goals if we buckle down and do the dirty work."
The Bishops travel to Wooster on Saturday, Feb. 10 in a rematch of last-year's conference tournament final. The game is slated to start at 4 p.m.