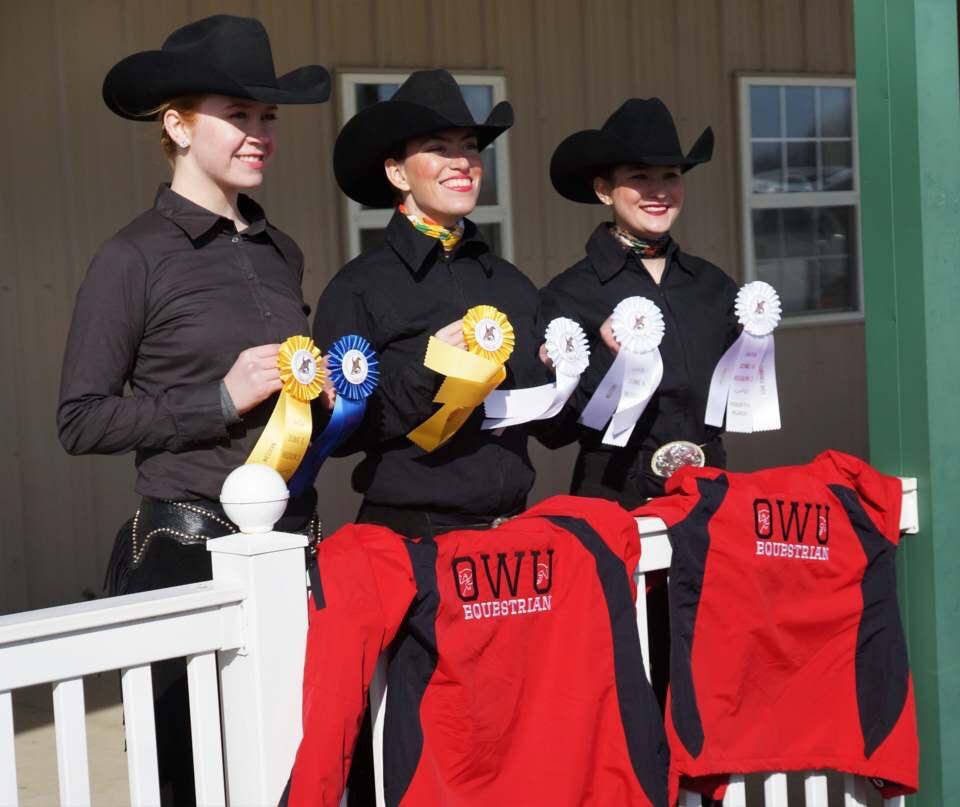 Equestrian team returns to competition
By Jesse Sailer, Sports Editor
After four years of being on a competitive hiatus, the Ohio Wesleyan Equestrian Team (OWUET) returns to compete in the Intercollegiate Horse Show Association (IHSA) against top schools in the region.
The OWUET western team traveled to Miami University on Saturday and Wilmington College on Sunday last weekend to compete against Ohio State University, Ohio University, Wilmington College and Miami University.
All of the competing schools have division 1 club programs, aside from Wilmington's division 3 status, and all the schools have well established equestrian teams that have won numerous IHSA national titles.
OWUET used to have a strong competitive IHSA presence back in the late 1990s and early 2000s. Due to decreased membership and interest, the team has not competed in IHSA since 2014, until last week.
Sophomore Reilly Wright, the western team president and co-captain of the OWUET, competed with two other western competitors, junior Sarah Sanford and sophomore Hannah "Juniper" Deitering.
On Saturday's Miami show, Wright placed 2nd in her intermediate level class and Sanford placed 6th in her beginner class. All three western riders competed Sunday at Wilmington with Sanford placing 4th in both her A.M. and PM shows. Deitering, also in the beginner level, snagged 4th in her A.M. showing and 3rd in the P.M.. Wright secured 3rd in her A.M. show and came out on top in her P.M. class with a 1st place victory.
Junior english captain Hannah Durr who is in her second semester of holding the position of captain said, "I am so proud of our riders who competed this past weekend, and am very excited to see our english and western riders compete this upcoming weekend."
"It was such as thrill to ride competitively for OWU for the first time," Wright said. "To represent our school against powerhouses like OSU and Miami was really exciting, especially with it being Sarah and Juniper's first show ever."
Jessica Daniels, the team's coach, has been working with members since fall 2016 to prepare them for competing in the IHSA. 
"This past weekend I was so impressed with our riders, two of our riders had never shown before and they rode like seasoned pros," Daniels said 
OWUET's english team, sophomore Theresa Schluchter, and freshmen Molly Taylor and Hannah Edelblute, compete for the first time this Saturday at Ohio University while western competes again at Wilmington College on Sunday. These shows are the last of the 2017-2018 IHSA season with qualified riders beginning postseason championships in early March.
The IHSA offers competition in both western and english, also known as hunt seat, for colleges nationwide that compete against each other. Competing riders in both seats are assigned a random horse they most likely have never seen or ridden and must immediately ride the strange horse before a judge. 
The difference between riding hunt seat and western mainly comes down to the type of tack, rider attire and riding position. In competition, the judge studies the rider's handling of the foreign horse under specific hunt seat or western expectations, such as the rider's arm position or leg movement.
Both styles of riding are offered by OWUET and require no necessary experience from anyone wishing to join to ride for fun or to compete. Members range from experienced riders who have competed their entire lives, while others have never even touched a horse before, let alone mounted one. 
Before the fall of 2016, there were a total of five active members. Due to the recruiting work of the team's president at that time, alumni Amber Sample, membership boosted up to 22 riders that semester. That also was the semester the team signed Daniels as their new coach.
"This is a growing sport in today's colleges and a majority of schools are now offering it as a varsity sport," Daniels said. "The National Collegiate Equestrian Association (NCEA) was founded in 1998 in collaboration with the North Coast Athletic Conference (NCAA) and continues to be one of the fastest growing women's sports."
Since then, their numbers have steadily risen with close to 40 members now, with about 30 actively taking weekly riding lessons. 
"We hope those numbers will grow a little more so we can have some more competitive interest next year and boost our presence in the IHSA," Wright said.