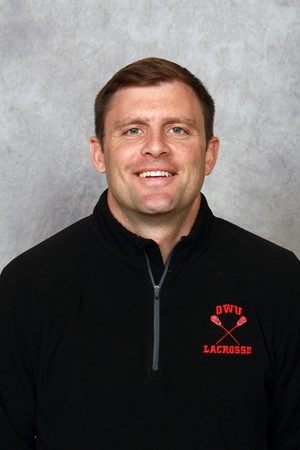 Coaches Corner: Mike Plantholt
By Jesse Sailer, Sports Editor
As the men's lacrosse team starts their 2018 season, head coach Mike Plantholt looks to improve the young team and win another conference title.
Sailer: How's the upcoming season look?
Plantholt: Pretty good, we've put together a very nationally competitive schedule. So we play arguably the toughest schedule in the country against four teams in the top seven in the country so we had a tough first game. We had a lot of positives there, I think a lot of our guys played really hard and we realized that we could run with and play with and beat anybody. That's our focus right now is getting a little bit better everyday and trying to be the best team we can be when it counts.
Sailer: What are the benefits of having such a tough schedule?
Plantholt: Having a tough schedule prepares you for everything, so obviously you want to be good in conference so playing some tough out of conference opponents not only helps you when it comes down to conference time but it helps you when it comes to playoff time. You're going to be playing the best teams in the country in the playoffs so if you can make it there then that tough schedule will have prepared you for that.
Sailer: Do you have a strategy going into this season?
Plantholt: The strategy this year is getting the younger guys that have been waiting in the wings like the sophomores and juniors, getting them some game experience. I wouldn't say there's a particularly different strategy this year then in years past. We just want to continue to improve every game and make sure the guys are having a great experience.
Sailer: Are there any freshman we should look out for?
Plantholt: This is a very strong freshman class, in terms of players to look at Will Anton started in his first collegiate game this past weekend and he'll be someone who gets into the rotation a little bit. We have Charles Schooler at long stick midi who looks really good, Sean Gellen is a midi that has impressed us, Austin Plaster and Max Johnston also look really good. We have very good goalies in this freshman class both Zach Brasser and Connar Mulcahy. I'm very impressed by how are freshman have been playing so far. 
Sailer: Is it nice to have senior Ben Rigger back as goalie after not having him for the 2017 season?
Plantholt: Yes. He's a difference maker in the cage and when we didn't have him last year we were forced to start two freshmen and that was a lot to ask of them being the 13th ranked program in the country. Although, sophmore Joey Sichenzia stepped in and had a solid year, but I think all of our goalies on the team right now are going to learn something from playing under Ben. He brings a wealth of experience.